Amazon Prime Gaming is a fantastic choice for gamers who want to explore new titles without breaking the bank. Anyone with an Amazon Prime subscription is eligible to receive the Twitch Prime Gaming FIFA 23 Pack. Prime Gaming offers many benefits to support your hobby – from free games to in-game loot. Prime Gaming even allows members to keep a selection of complimentary games, providing unbeatable value for their subscriptions. With June's free game offerings already on the horizon, there's never been a better time to enjoy the perks of Amazon Prime Gaming.

Amazon announced the launch of Prime Gaming in December 2022. Since its inception, the company has been providing monthly PC games to users at no cost, with 15 games already up for grabs. Additionally, Amazon Prime Gaming has announced its intention to offer 13 more games for June 2023.
Amazon Prime Free Games in June 2023 Sneak Peak
Prime Gaming updates its free game offerings every month, replacing previous titles with new ones. The selection for June, available to Amazon Prime Gaming subscribers, features popular titles like SteamWorld Dig 2, Gem of Destiny: Homeless Dwarf, Over Top, and Neverwinter Nights: Enhanced Edition.
Prime Gaming offers a subscription freebie to Twitch. This benefit allows you to support your favorite streamers with a gratis monthly subscription, giving them additional funds and granting you access to exclusive emotes and chat badges — an all-around win to further amplify your participation in the gaming community.
Prime Gaming June 2023 Games
SteamWorld Dig 2
Sengoku 2
Over Top
Neverwinter Nights: Enhanced Edition
Autonauts
Revita
Roguebook
Once Upon A Jester
Gem of Destiny: Homeless Dwarf
Mutation Nation
Soccer Brawl
The Super Spy
Top Hunter: Roddy and Cathy
Batman: Arkham Knight (Amazon Luna)
Citizen Sleeper (Amazon Luna)
Monster Harvest (Amazon Luna)
SteamWorld Heist: Ultimate Edition (Amazon Luna)
How to Claim Prime Games?
To redeem your Prime Gaming titles, follow these simple steps:
Log in to your Prime Gaming account.
Go to the Games tab.
Find the games you want to claim and click "Claim Now."
Follow the instructions to install and play each game.
Those without a Prime Gaming membership can acquire these games through a trial. After its expiration, a monthly payment of $14.99 is mandatory to continue enjoying Prime Gaming benefits.
Prime Gaming June 2023: dig for untold riches in indie Metroidvania SteamWorld Dig 2
Prime Gaming's free games lineup for June delivers access to a range of titles, including one of the most beloved indie sequels, a futuristic football game with robots, and a Dungeons and Dragons tie-in. It's the perfect opportunity to expand your gaming library!
The Amazon Games App – available on PC – is offering a lineup of gaming treats through Prime Gaming for June 2023. From fantasy franchise tie-ins to indie darlings, this collection has it all. Enjoy an extensive range of gaming goodness!
On Thursday, June 29th, Prime Gaming's June 2023 lineup concludes with a bang, featuring three thrilling games. First, Gems of Destiny: Homeless Dwarf, a fantastical Match 3 revamp. Second, Once Upon a Jester, a zany 2D adventure where subscribers flaunt their talents for peasant crowds. Finally, don't miss Deckbuilder Roguebook! This turn-based roguelite, designed by Magic: The Gathering's creator, is sure to scratch that Slay the Spire itch card game fans know all too well.
Roblox Prime Gaming (May 2023): How To Claim Free Rewards
Roblox's well-known game creation system features an extensive library of custom games and in-game items to keep players entertained. Prime Gaming subscribers get their share of exclusive in-game loot for Roblox through redeeming special code rewards monthly, unlocking a trove of distinctive items for their avatars. Our guide catalogs all the available Roblox Prime Gaming perks for this month and details on how to claim them.
Currently, there aren't any Roblox Prime Gaming rewards available for players. It seems as though these rewards have been temporarily discontinued, but don't lose hope. We'll keep a close eye on the situation and update our page with any new drops. Stay tuned for future updates on Roblox Prime Gaming rewards.
Prime Gaming FIFA 23 Pack #8
Users with Amazon Prime subscriptions are eligible to receive the Twitch Prime Gaming FIFA 23 Pack. This pack offers various rewards, including untradeable players, player picks, and consumables, and is given once a month. Don't miss out on the opportunity to level up your FIFA 23 game!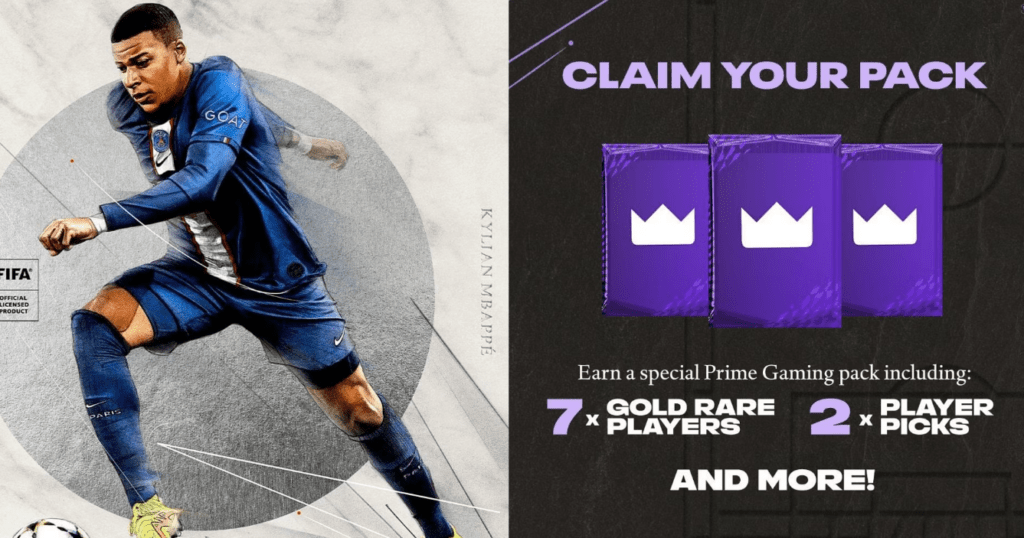 Prime Gaming Pack #8 was released on Monday, 21 May.
How do I claim my FIFA 23 pack?
To find your Prime Gaming Pack, go to the Store on the Ultimate Team homepage and select My Packs. Please note that it may take up to an hour for the content to be delivered to your account.
How often are Prime Gaming Rewards?
Each month, Prime Gaming and Riot Games generously give away some free loot. In this article, we'll take you through the process of claiming this loot, tell you where to get it from and enlighten you about the rewards that await you.
How do you get free Prime on Roblox?
Explore all the exclusive in-game Roblox items that come with your Amazon Prime Gaming subscription.
Claim your code from gaming.amazon.com/loot/roblox.
Log in to your account on roblox.com.
Go to www.roblox.com/primegaming and enter your code.
Your item can be equipped from within the Avatar Editor. Enjoy!