Sikkim is a Himalayan paradise in the northeast, flanked by Tibet, Bhutan, and Nepal. Adventure sports can be played in Sikkim's huge, snow-capped mountains, winding roads, diverse wildlife, and dense forests. So if you are planning holidays in Sikkim or looking for Sikkim tourist places then here we will let you know about 7 adventure sports in Sikkim that can make your trip memorable and exciting.
Sikkim, a beautiful state in northeastern India, is known for its breathtaking landscapes, snow-capped mountains, and vibrant Buddhist culture. Here are the top 5 tourist places to visit in Sikkim:
5 Tourist places to visit in Sikkim
Gangtok: The capital city of Sikkim, Gangtok, is a popular tourist destination known for its stunning views of the Kanchenjunga mountain range. You can explore attractions like the Enchey Monastery, Rumtek Monastery, Namgyal Institute of Tibetology, Tsomgo Lake, and the vibrant MG Marg, a bustling street with shops, cafes, and restaurants.

Pelling: Located in the western part of Sikkim, Pelling offers magnificent views of the snow-capped peaks, including the mighty Kanchenjunga. The main attractions in Pelling include the Pemayangtse Monastery, Rabdentse Ruins, Khecheopalri Lake, Sangachoeling Monastery, and the panoramic views from the Helipad viewpoint.

Yuksom: Known as the "Gateway to Kanchenjunga," Yuksom is a small town with historical significance. It serves as the base camp for several treks in Sikkim. Yuksom offers beautiful trails, ancient monasteries like Dubdi Monastery, Norbugang Park (coronation site of the first Chogyal of Sikkim), and the stunning Khecheopalri Lake.

Lachung and Yumthang Valley: Located in North Sikkim, Lachung and Yumthang Valley are picturesque destinations surrounded by snow-capped mountains, waterfalls, and hot springs. Yumthang Valley, also known as the "Valley of Flowers," offers stunning vistas with its meadows filled with alpine flowers. You can also visit the Lachung Monastery and enjoy the local hospitality.

Nathula Pass: Situated on the Indo-China border at an altitude of 14,140 feet, Nathula Pass is a historic mountain pass that connects Sikkim with Tibet. It offers breathtaking views of the Himalayas and is a popular tourist destination. However, please note that visiting Nathula Pass requires permits, and it is subject to weather and security conditions.
These are just a few of the many beautiful places to visit in Sikkim. The state is blessed with natural beauty, serene monasteries, and warm-hearted people, making it a must-visit destination for nature lovers and adventure enthusiasts. Now let's have a look at Adventure sports in Sikkim.
Adventure Sports in Sikkim
Trekking routes in Sikkim include the Kanchenjunga Base Camp trek, Goechala trek, Dzongri La Trek, and many more. Tourists can also enjoy river rafting adventures like Rafting in the Teesta River and Rangit River. Other adventure activities in Sikkim include mountain biking, jeep safaris, bungee jumping, yak safari, and more.
Don't miss out on these 7 adventure sports in Sikkim if you are considering a trip to this state.
Most Popular 7 Adventure Sports in Sikkim
Trekking & Hiking
River Rafting
Mountaineering
Mountain Biking
Skiing
Paragliding
Hand Gliding
1. River Rafting: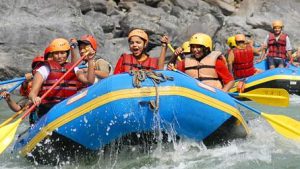 Wear your coat and helmet, and set your grasp on the paddles as you are going for facing the difficulties of stream boating in Sikkim. This is one of the most famous sports in Sikkim. The experience of boating in the requesting frosty chilly waters of River Teesta and River Rangit is unrivaled. Offering you a high adrenaline surge, it is outstanding amongst other Sports in Sikkim. The two apprentices and experienced rafters can go for this action here.
Reaver Teesta and its tributary River Rangit have grades from 2 to 4 and are well known on a universal level for their rapids and force. Along the banks of these waterways, there are places with lots of wildlands, small mountain villages, and patio farming. One can likewise appreciate the outdoors on the stream banks. These well-planned camps are set up on clean white sands.
While in River Teesta, boating begins from Makha going down towards Sirwani including Rangpo, amid boating in River Rangit, the pontoon begins from Sikip going to Nayabazar, and completion at Malli. The best time is from May to November.
2. Mountain Biking: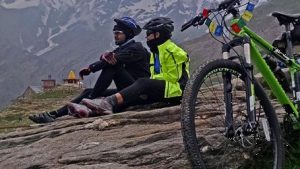 The rough landscape of this state has immense extends for mountain biking, a genuinely new enterprise. As you set out on mountain biking in Sikkim, enjoy the stunning perspectives of snow-clad mountains. Appreciate the peaceful vibe and acquire information about the Sikkimese culture. This energizing open-air action is a blend of touring, trekking, and other noteworthy encounters. The best time to visit this is from April to May and from mid-September to October.
Common mountain biking routes in Sikkim are:
Gangtok-Rumtek-Sangh-Sirwani-Temi-Namchi-Jorethang-Melli.
Gangtok-Rumtek-Sang-Sirwani-Temi-Damthang-Rabong-Kewzing-Tashiding-Yusum-Pelling-Dentam-Rinchenpong-Soreng-Sombaria-Jorthang-Namchi-Rangpo.
Gangtok-Rumtek-Sang-Sirwani-Temi-Namchi-Namthang-Rangpo.
Gangtok-Phodong-Rangrang-Dikchu Makha-Sirwani-Temi.
Rangpo-Rhenock-Rongli-Barapathing-Pakyong-Ranipool-Gangtok-Rumtek-Sang-Temi-Ravang-Tashiding-Pelling-Khechopalri Lake-Yuksom-Rabong-Dikchu-Mangan-Lachung-Yumthang and back.
Read Also: Friendship Peak Trekking in Himachal Pradesh
3. Paragliding: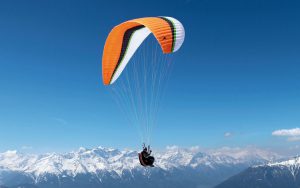 How would you like to fly like a free fast creature in the sky? In the activity that energizes you, go for paragliding in Sikkim. The perspectives of the grand Himalayas and the green surroundings will be unique. A couple of flights are offered by administrators and no preparation is required for the same. One is joined by an affirmed paragliding master who gives you a chance to appreciate a ride securely, exploring the flight himself. You simply need to contribute to departure and landing. There is only one pre-essential that as far as possible is 90 km.
There are two sorts of paragliding-Medium Fly and High Fly. While in the first the elevation of around 1300-1400 meters with a flying time of 5-10 minutes, in the second one, the take-off site is 2200 meters with a flying time of around thirty minutes. Gangtok city is prevalent for the same. There are various administrators on the site of movement.
4. Rock Climbing:

If you are both physically and mentally fit, rock climbing in Sikkim is an excellent activity for you. It is about the climber's dexterity, limit, and adjustment. All the apparatus for the movement is accessible at the administrator's, yet yes preparation is required for this action. Bulbulay Dara in Gangtok is a famous site for this movement. This movement offers a tremendous adrenaline surge yet expects one to have related knowledge.
There are various climbing courses with varying gauge levels, including those offered by IHCAE (Organization for Shake Moving), for climbers with varying gauge levels. The establishment has different shake climbing programs from 20 feet to 80 feet. The best time for this action is from March to May and mid-September to mid-November.
There is natural rock climbing and artificial rock climbing too.
5. Trekking:

The northeastern territory of Sikkim offers outstanding other encounters in trekking. Each trek in Sikkim is unique in relation to the next yet offers an important experience in light of its undulating scene, untouched landscape, snow-clad pinnacles, verdant grasslands, spouting waterfalls, tired villas, amicable local people, outlandish natural life, old religious communities, an assortment of vegetation, and significantly more. It is a perfect activity for experience addicts, regardless of whether the trek is simple or testing.
A portion of the well-known trekking courses in Sikkim is Sandakphu Trek, Goecha La Trek, Kanchenjunga Trek, Singalia Trek, Dzongri Trek, Rhododendron Trek, Monastic Trek, Lhaba Tarum Tsachu Trek, Tosar Lake Trek (North Sikkim), Himalayan Trek (South Sikkim) and Green Lake Trek. Before you set out on any trek, ensure you are physically and rationally fit and have courses of action for direct, dress, nourishment, trekking gear, etc.). Also, the best time is from April to May and October to November.
6. Cable Car Ride: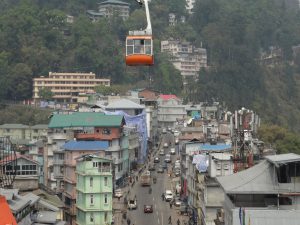 Link auto ride in Gangtok is unquestionably one of the best things to do in Sikkim. This is an energizing ride that offers you an opportunity to enjoy the all-encompassing perspectives of the town of Gangtok, the Deorali Bazaar, and snow-topped pinnacles. The Gangtok Ropeway is operational since December month in 2003. 24 people can modify on one link auto, drawing power from a 10,000-foot battery as you ride for 1 km (one route) in around 7 minutes. There are no seats in these linked autos.
There are three stations, and the one closest to the Institute of Tibetology in Deorali is the simplest. Also, the ticket counter is present here. Sit tight for your turn, at that point, take a lift to the link auto station, which is 100 feet above. Namnang is the home station, and the best one is Tashiling, which is quite recently alongside the Secretariat. Remember taking brilliant photos. Every day from 9:30 a.m. to 4:30 p.m., the link runs automatically.
Summary
So what are you waiting for? Get set for adventure in Sikkim and explore the thrill of adventure sports here! Book your adventure holiday now and get ready to embark on an unforgettable journey full of adventure and excitement. Be prepared to be awed by nature's wonders, be amazed at its beauty – come adventure in Sikkim!