SEO specialists confront ongoing hurdles in keeping up with the rapid evolution of search engine algorithms. When it comes to SEO, there are literally hundreds of things to watch out for, creating complicated issues that call for creative solutions. Here we will let you know about how to do SEO & SEO challenges too. Try working on them.
But what about typical SEO difficulties? In the beginning, many business owners suffer as they look for answers to some fundamental problems. If that is you, this article will assist you in getting past some early obstacles that are keeping your website from ranking higher.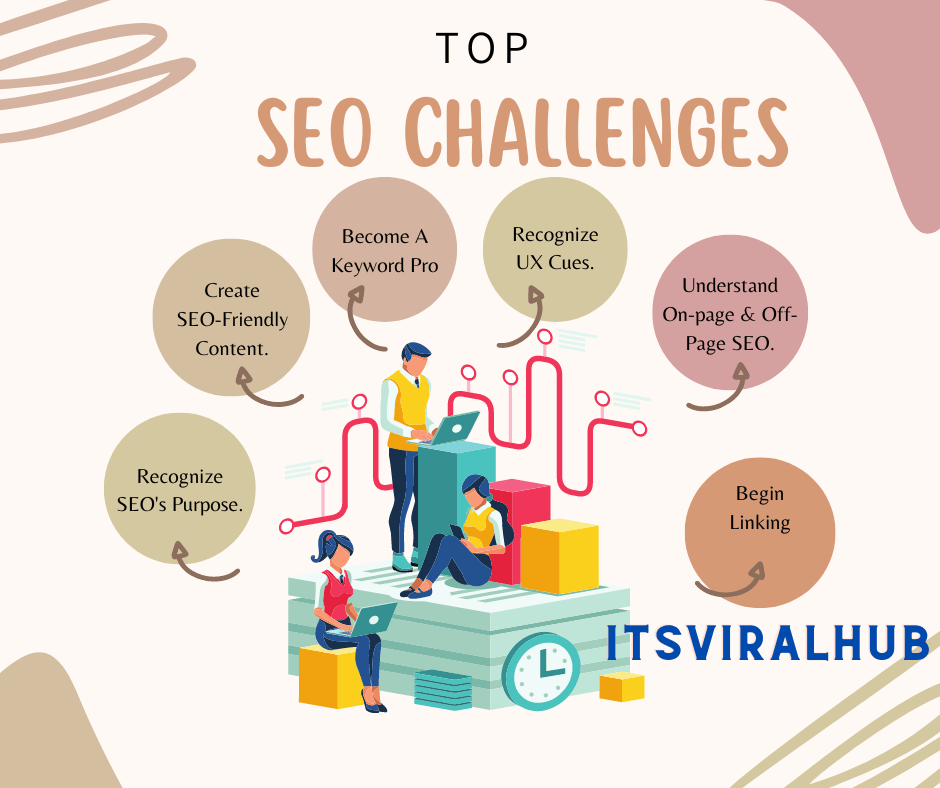 SEO Challenges
Solution 1: Verify robots.txt
On your server, there is a file with the name robots.txt. As suggested by the name, this file is about web crawling robots.
These robots are sent out by search engines like Google to compile a map of all the online material. When users do searches, the "indexed" information that they have gathered is then shown to them.
Perhaps your robots.txt file is keeping them out. To prevent the robots from indexing any content before the site is ready to go live, website developers frequently modify this file to stop them while the site is in preparation. Call your website developer to see whether this is the problem; it's more prevalent than you may think!
Option 2: Consider local SEO
When a local company's website is difficult for people to locate, it's typically because the site isn't set up for "local" SEO.
Local SEO is a collection of internet marketing strategies and resources used by firms to target clients in a particular local location. It is a more specialized kind of conventional SEO that employs certain strategies designed to place a company's goods and services in front of nearby clients at precisely the time they are searching for them online.
Solution 3: Obtain glowing testimonials
Positive evaluations are one of the best ways to increase a company's trustworthiness. Reviews serve as a type of social proof that boosts people's confidence and entices them to interact with a company. By integrating reviews directly into search results, even search engines like Google are aware of this. The more good ratings your company has, the better. So ask your clients to submit reviews for your company on Google.
Step 4: Join social media!
You gain ground on search engines every time a social media user links to a blog post or other page from your website on their own website. Like "votes," links from reliable sources boost the authority of your website. In contrast to "black hat" SEO focused on spamming links, this kind of link development might raise your site's domain authority.
The long-term benefits of creating and keeping an active social media profile include encouraging link sharing by interacting with your followers. When consumers search for your company name, the profile will also be towards the top of the results page.
Second issue: Not ranking
More original, high-quality content means more links that users' search queries will be served up by the search engine. Its comes under One of the top SEO challenges.
In light of it, the following suggestions can help raise a poor ranking:
The first option is technical SEO.
As the name suggests, this solution is technical, so you might want to contact your web developer for this one.
Technical SEO refers to elements that influence search engine indexing and crawling, which in turn affects where your website appears on the results page. They consist of:
response headers for HTTP
Redirects
Metadata
Sitemap XML
Calling a specialist is a good option because some of these problems need server configuration or website code implementation.
Attempt content marketing with SEO in mind as a second option.
By digitizing traditional marketing strategies, content marketing creates online information that your target audience may read, watch, or listen to.
Content marketing generates a "pull" element that draws in a specific target group that is seeking exactly what your organization has to offer, as opposed to barraging the globe with general ineffectual advertising.
The combination of SEO and content marketing is a component of a larger digital marketing plan that may alter how you do business online.
Campaigns & Strategic Initiatives
It's not possible to do everything at once for the majority of firms. A long-term strategy can be divided into a number of campaigns, each of which focuses on three to four strategic initiatives at once.
Continual Development
Every strategic plan should be seen as a "living" document that may be adjusted as a firm changes because SEO is a long-term endeavor. A long-term plan should be adaptable in case circumstances change because the entire digital ecosystem is always evolving and changing.
Third issue: failure to convert
Some entrepreneurs believe they have done everything correctly because they have a website, have written some content for it, and are receiving some visitors.
But neither leads nor sales are being produced by them. What could possibly go wrong?
Here are a few answers:
Solution 1: Try a different reporting style.
It may appear like a website is receiving a lot of traffic, but this relies on where the traffic is coming from and where it is going. Even if an insurance company publishes excellent information regarding new regulations and legislation, if most of their visitors are students doing research for their projects, it won't increase their lead generation.
You may use search analytics tools like Google Analytics to learn more about your visitors' origins, times of day they visit, bounce rates, devices they use, and other information. These resources are priceless for identifying your target market and the motivations behind their visits to your website.
Alternative 2: Try technical SEO
As was already said, technical SEO consists of elements that may have a direct or indirect impact on search engine crawling, indexing, and ranking.
To check for issues, try asking your website developer or SEO expert to perform an SEO audit. Maybe your website is taking a long time to load or your contact form isn't loading correctly. Today's users are more sensitive than ever before. In addition to content optimization, addressing any user experience-related concerns should be a primary goal.
Third option: Try some CRO
The goal of conversion rate optimization (CRO) is to improve conversion rates by focusing on the user experience.
One set of CRO's objectives is:
bringing in more visitors and keeping them on your site longer
encouraging people to click on buttons to complete calls to action
Developing alternatives that are attractive enough to get consumers to provide contact details
Making forms that are simple to access and placing them in strategic places on the website
Creating content that consumers would want to share on social media
A Conclusion
Earning a high position in SEO may be time-consuming and is not a task that can be set and forgotten. Similar to conventional marketing, SEO is a dynamic facet of digital marketing that faces several obstacles as it develops. Thankfully, several of those problems have very simple answers that may be applied.
You can get beyond those obstacles so that your site ranks higher, produces better quality leads, and boosts revenue for your company with a little research and expert assistance.