DSLR cameras also referred to as digital single-lens reflex cameras, are preferred by many consumers of electronic devices. Comparing the DSLR design to some low-cost digital cameras with an optical viewfinder, the DSLR has the advantage of being parallax-free. DSLR cameras produce much sharper images, and the equipment also produces better low-light imagery. DSLR cameras frequently have larger, higher-quality image sensors, which have less noise and are useful in low light. Here are some best DSLR cameras for under 50000 Rupees.
We have a list of camera models that are now on sale in India if you're looking for one that costs less than Rs. 50,000. Here, you'll find a wide variety of cameras, including DSLRs, mirrorless models, and compacts. The cameras are set up in the order that they came out, with the most recent model at the top. The important details of each camera, such as the camera type, effective pixels, sensor type, display type, display size, and battery type, are also given alongside.
Considerations before purchasing the top DSLR cameras under Rs. 50,000
Before purchasing a new DSLR camera, there are several aspects to take into account. A DSLR camera can be customized in a variety of ways, and with the correct equipment and techniques, you can take your photography to the next level.
Before purchasing any new DSLR camera, you should keep an eye on these items.
Megapixel resolution of the main sensor
HDMI Slot
Videography ability
Video resolution and frame rate information
Shutter speed
Different sensors compatibility
Different lens compatibility
Best DSLR Cameras to buy under Rs. 50,000
Below are the best DSLR cameras that you can buy from Amazon:
1. Canon EOS 3000D 18 MP DSLR Camera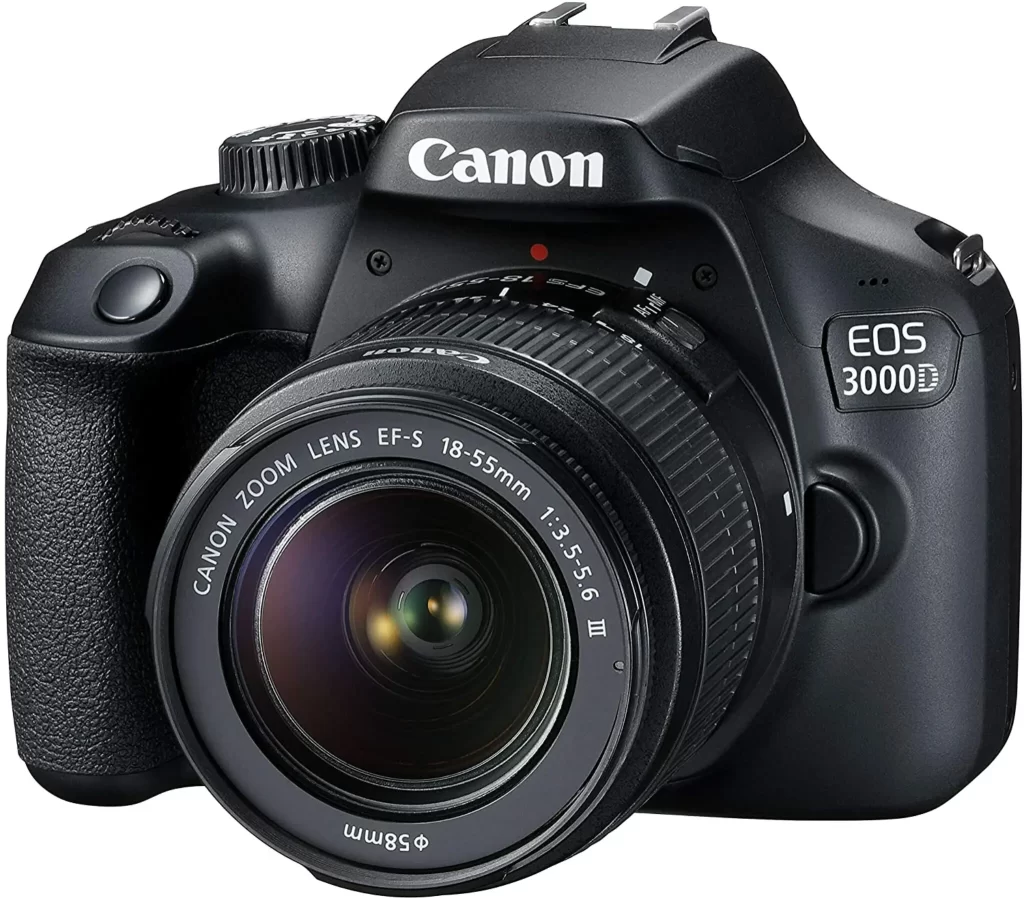 The Canon EOS 3000D, the first DSLR on our list, boasts an 18-megapixel main sensor and 1080p video recording at 30 frames per second. Additionally, because of its DIGIC 4+ imaging processor, you can always take stunning pictures of your subject, even in extremely dim lighting. You can operate this camera remotely with your smartphone using the remote Live View feature to produce stunning photographs.
The camera's grip cradle allows for a firm grip, and the dials and settings are designed to be easy to operate even when using the viewfinder. The DSLR also features an ambiance feature that allows users to take pictures in a certain manner by just choosing the phrase that best represents the environment they are photographing. Its 436-gram overall weight also makes it lightweight and prevents hand fatigue during extended photo shoots. In India, the Canon EOS 3000D may be purchased from any electronic store for less than Rs. 35,000.
Pros
Cons
35x Optical Zoom capability
All manual control
18-megapixel CMOS Sensor
Full HD 30fps recording
2. Canon EOS 1500D 24.1 MP DSLR Camera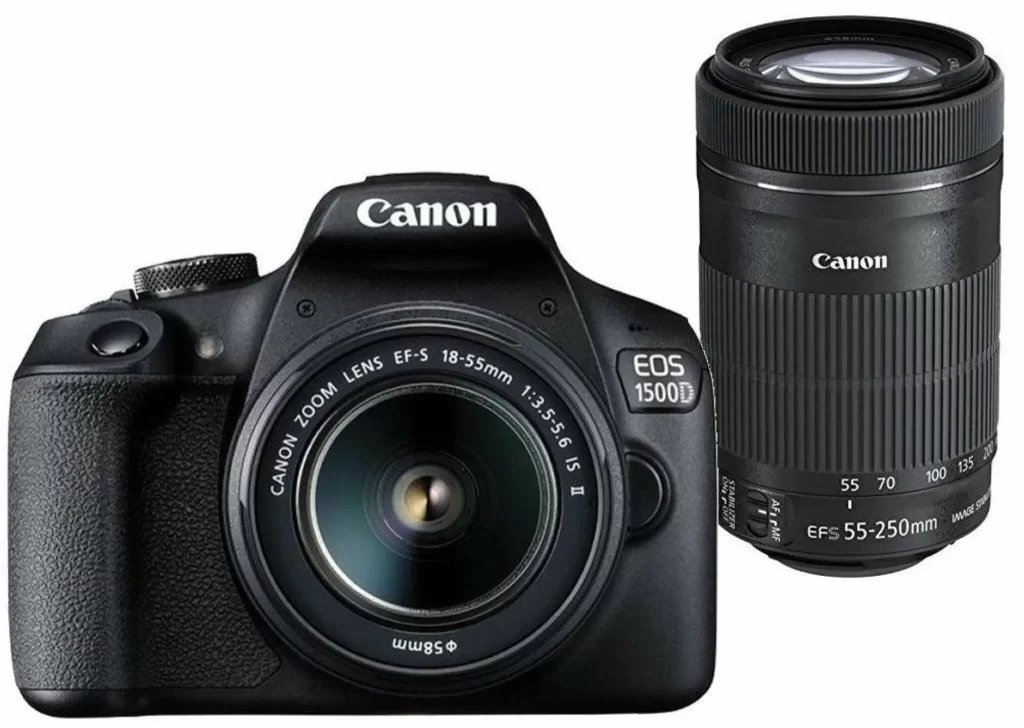 The Canon EOS 1500D is the second DSLR camera on our list and is yet another powerful model from Canon. With a 24.1-megapixel sensor, you can experiment with different approaches to photograph various subjects. You can use the camera's extensive selection of shooting options when taking still pictures to create images that properly capture the mood and vision you're going for. The large-sized sensor on this camera was designed to capture great images even in low light, so you don't need to worry about the lighting conditions at a site.
Additionally, it supports Wi-Fi networking and NFC pairing, which makes sharing photographs as simple as it can be. The camera's 7.62 cm LCD screen makes it simple to adjust framing and composition. Additionally, it enables you to change the camera's settings and photo modes. All offline and online electronic retailers in India have this DSLR camera for less than Rs. 40,000. It is one of the best dslr camera for photography and videography
Pros
Cons
Wi-Fi / NFC Pairing
No 4k video recording
24.1 megapixel CMOS Sensor
9 Point Autofocus capability
3. Panasonic LUMIX G7 16.00 MP DSLR Camera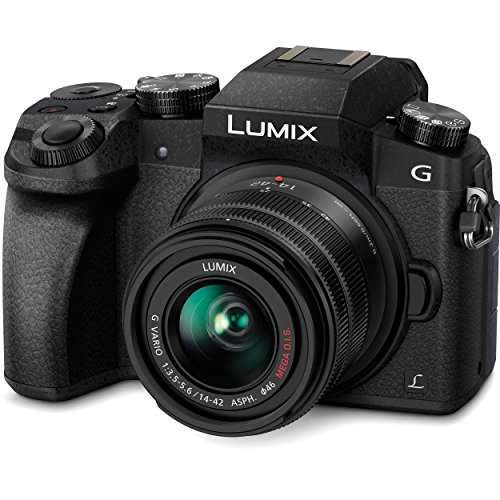 The Panasonic LUMIX G7 DSLR camera, which supports 4k video recording and has mirrorless capabilities, is the third camera on our list. The camera can also take pictures in dim lighting, such as moonlight when there is no other source of light. Its low-light autofocus makes topic focussing more precise. Additionally, by precisely calculating the contrast value in a smaller autofocus zone, the starlight photography mode enables you to focus on a star in the night sky.
Additionally, the device has a high-resolution OLED Live View Finder that provides precise framing even in extremely bright conditions and excellent visibility thanks to a 10,000:1 contrast ratio. Through the Wi-Fi connection, the camera is also compatible with the Panasonic Image app. The 16-megapixel Digital Live CMOS Sensor of the DSLR camera provides rapid signal processing and high-quality image capturing. One of the best DSLR cameras available for less than 50,000 rupees is the product, which is sold by all reputable electronics stores in India.
Pros
Cons
4K Video Recording
Little hefty weighing in at 645 grams
High-Speed Auto Focussing
OLED Live View Finder
4. Nikon D3500 24.2 MP DSLR Camera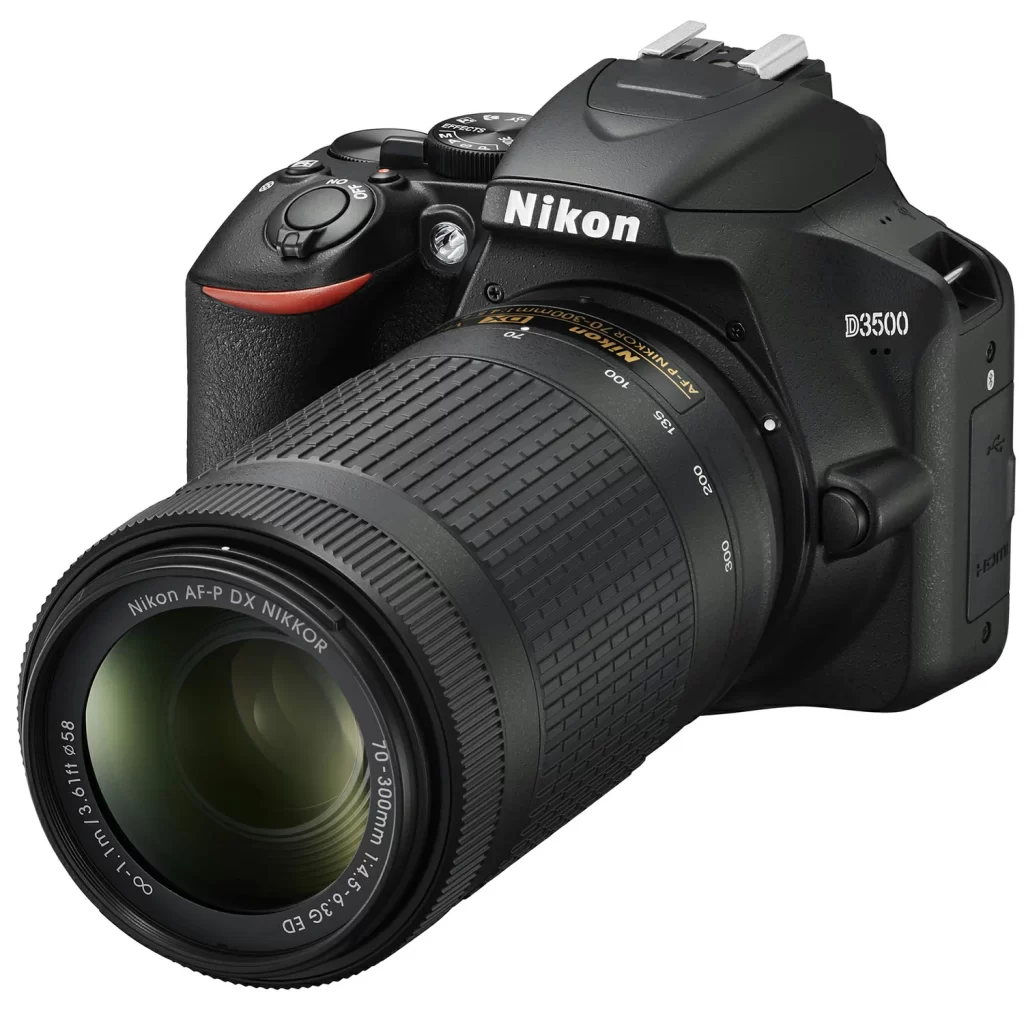 The Nikon D3500 Camera, which has a 24.2-megapixel resolution and up to 25,600 ISO capability, is the next best DSLR camera around Rs. 50,000. Even with a telephoto lens mounted, the camera is compact and well-balanced. The menu system is easy to use and the buttons and dials are thoughtfully positioned for comfort. This also makes it simple for newbies. The gadget is compatible with Nikon's SnapBridge software, which makes it simple to post or share pictures taken with the camera.
The camera can capture Full HD 60 fps video, which you can view with ease through its excellent viewfinder. Additionally, even when shooting in burst mode, the D3500 allows you to press and hold the shutter button to take up to 5 frames per second at full resolution and razor-sharp focus. The camera is an obvious recommendation for anyone looking to advance their photography, retailing for slightly around Rs. 50,000 in India. It is also one of the best DSLR camera for professional photography
Pros
Cons
Able to record 1080p 60fps videos
No 4k video recording
3.0-inch Wide-Angle TFT LCD display
5 FPS Continuous Shooting support
5. Sony ILCE 6000L 24.3MP DSLR Camera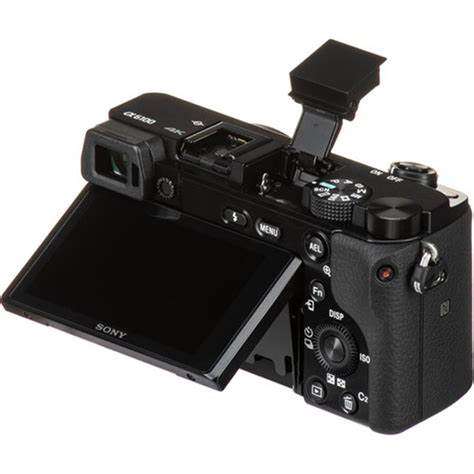 The imaging capabilities of the Sony Alpha 6000 mirrorless camera far exceed those of a DSLR. They transform your everyday shots into stunning movies and photography that you can both see and feel. They are as powerful as a professional camera, but smaller and easier to use. A Sony mirrorless camera, with its significantly larger image sensor and bright lenses, maximizes the available light. Even without a flash, the intelligent image processor ensures sharp, low-noise images. Since Sony mirrorless cameras are small and simple to use, they will quickly replace your current daily camera. They are a simple upgrade for any image enthusiast thanks to the rechargeable battery, tilting screens, and customization.
Camera TypeDSLR Camera
Effective Pixels24.3 MP
Sensor type CMOS
Display Size3 inch
Battery TypeAAA Battery
So there you have it. The following is a list of the best DSLR cameras under 50,000 rupees that are still available in India as of Nov 2022. We anticipate that this article will assist you in focusing your search for the top DSLR camera within your budget. This list was created following a thorough research on several cameras.