Hollywood Writers Strike- Vin Diesel emphasizes the need for Hollywood to adapt to AI technology, which is quickly becoming the "new norm".
The 'Fast and Furious star has spoken out in support of the Writers Guild of America's walkout by its union members, even though it could be a setback for the action franchise and other movies.
Vin Diesel Backs Hollywood Writers Strike
Vin Diesel insists the Hollywood writers strike is "important".
Vin Diesel, who is 55 years of age, asserts that AI is quickly becoming the "new norm" in Hollywood and must be embraced.
Vin Diesel spoke at Universal Studios Hollywood for the Charlize Theron Africa Outreach Project fundraiser and quoted by Sky News, remarked on how we're entering an era where AI will need to be considered. The big question arises – how to proceed?
He continued, "Putting the writers' debate on the table is a step forward for all of us. It compels us, irrespective of our profession, to anticipate and prepare for adopting this new norm and technology."
Vin joined the strike in support, following admissions by President of Universal Pictures, Peter Cramer, that the 11th movie in the franchise may face delays if the walkout persists.
When asked about the impact of the writers' strike on the next 'Fast' movie, he responded, "It's on everybody's mind." Depending on the strike's duration, it may disrupt the writing process and jeopardize the timeline for the film. If the strike persists for an extended period, it will be challenging to meet our expectations.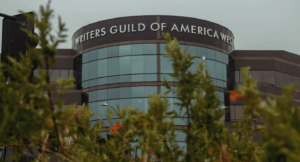 The Writers Guild of America (WGA) is urging studios to increase compensation for streaming and residual payments. The protest has already made waves, impacting major Hollywood awards shows and TV productions.
The latest ceremony to be impacted was the Daytime Emmys.
Also Read-
The Westin Bonaventure Los Angeles was set to host the annual awards ceremony on May 16. However, an agreement with the Alliance of Motion Picture and Television Producers is yet to be reached, rendering the ceremony temporarily canceled.
The ceremony for Creative Arts and Lifestyle scheduled for May 17 has also been affected and remains in limbo until a resolution is attained for the strike.
According to Adam Sharp, CEO and president of the National Academy of Television Arts and Sciences, the 50th Annual Daytime Emmy Awards scheduled on CBS for Friday, June 16th has been postponed due to the ongoing WGA (Writers Guild of America) strike. Additionally, the Creative Arts and Lifestyle ceremony intended to take place on June 17th has also been deferred for the same strike. Sharp looks forward to the celebration of our Golden Anniversary and congratulates the deserving nominees on another date once the strike has been resolved, bringing the community together to honor them.