As much as we cherish the wintertime routine of nesting under covers with coffee and a view out the window, there's more to these months than the ordinary. Why not spice things up? Let's explore some of India's most captivating winter destinations to make your first-time experience a remarkable one. Indulge in cheerful and thrilling activities by taking a winter break to these top locations.
What are you waiting for? We have narrowed down the list of the top spots to visit in India during the winter. Get your tickets, gather your belongings, and let's go on a lifetime of adventures!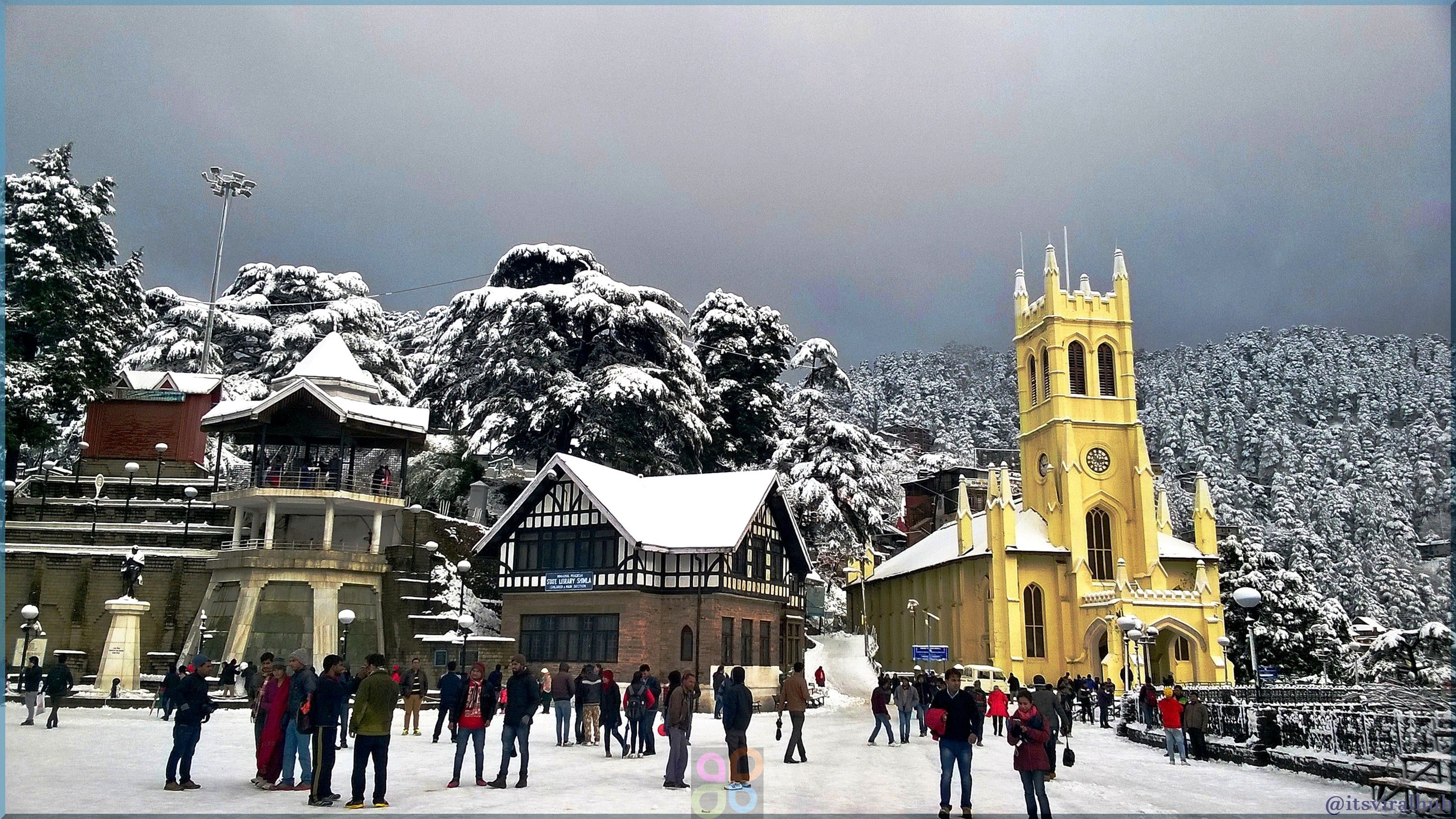 As the golden sun sets in the horizon, India, a colorful land of history, wildness, mysticism and naturalism, captivates the world. Ancient Hindu and Tibetan Buddhist kingdoms, immortal cities, and temples reveal an awe-inspiring intimacy.
During winter, North India will tantalize you with its cultural and natural diversity. Allow yourself to explore the vibrant North Indian hospitality, zesty cuisine, exquisite handicrafts, and stunning villas. Your journey may encompass bustling New Delhi, the Himalayas of Uttarakhand, the Royal Heritage of Rajasthan, the artistry of Himachal Pradesh, or the breathtaking valleys of Jammu and Kashmir.

Behold an extensive list of North India destinations for an extraordinary winter experience.
1. New Delhi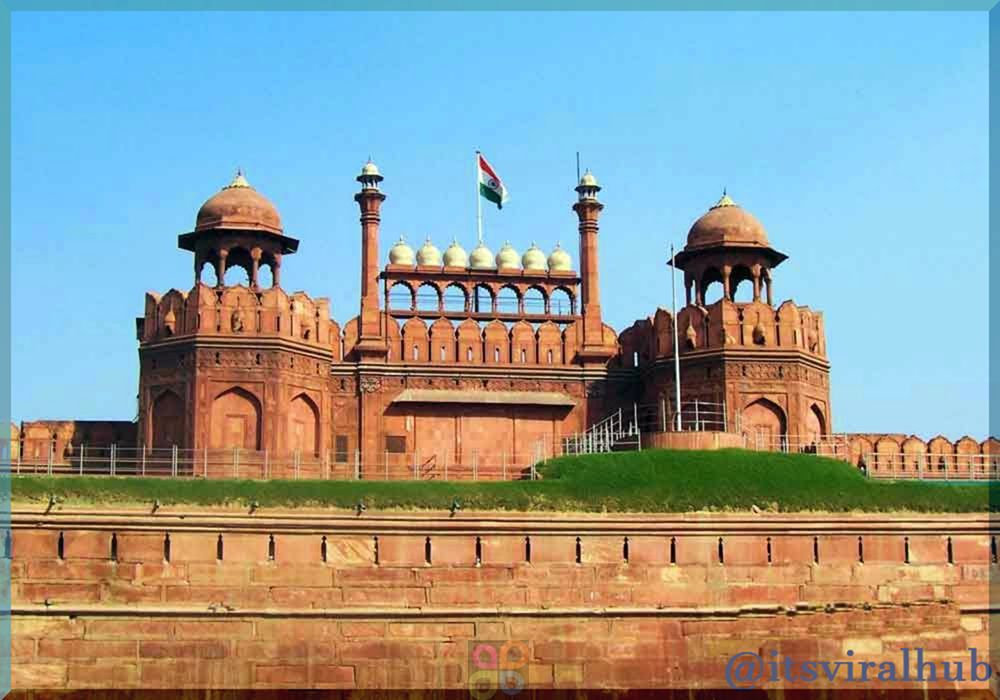 New Delhi, the capital city of India, is a bustling tourist hotspot during the winter season, boasting a unique charm that dates back to the Pandava era. With a mesmerizing blend of history and modernity, it is one of the significant historic cities in India. New Delhi's architectural masterpieces transport visitors through time, from the Purana Quilla and Qutub Minar to Jantar Mantar, Red Fort, Jama Masjid, and Humayun's Tomb.
The city's legacy attractions, including the Tughlaquabad Fort, Lotus Temple, and lodhi Garden, keep tourists entertained and spellbound. Amidst the grandeur, the India Gate stands tall, commemorating the bravehearts of the Indian Freedom Movement, Indo-Pak Wars, and Sino-Indo Wars.

Rajghat, another dedication with national significance, is a testament to India's rich culture and heritage. Tourists flock from around the world to witness its historical grandeur.
Being in the city you can't escape from the curious appeal of Chandni Chowk and the pioneer atmosphere of Connaught Place. Chandni Chowk is one of the most established and congested territories of the city that is noted for its numerous varieties of shops managing adornments, collectibles, articles of clothing and road sustenance, 'Parathe Wali Gali' is an absolute necessity visit put when you are in Chandni Chowk. Then again Connaught Place, which goes about as an extension between Old Delhi and New Delhi, is a prevalent joint in the city with various multi-cooking eateries, bars, shopping arcades, and inns.
The Akshardham Temple, which is the biggest Hindu Temple on the planet, shows a nitty gritty picture of Indian culture and religion… consequently making it another unmistakable vacation destination in New Delhi. Try not to pass up a great opportunity for the light and sound show. On the off chance that you are making a trip to New Delhi during the season of Republic Day then you should get a look at the parade before the Red Fort. Shopaholics have a ton of choices. S.N. Market, Lajpat Nagar, Janpath, Sadar Bazar, and Palika Bazar are a portion of the prominent shopping zones in the city where varieties of shops from pieces of clothing to crafted works and collectibles to electronic products can be found.
Temperature amid winter: 3°C to 22°C
2. Agra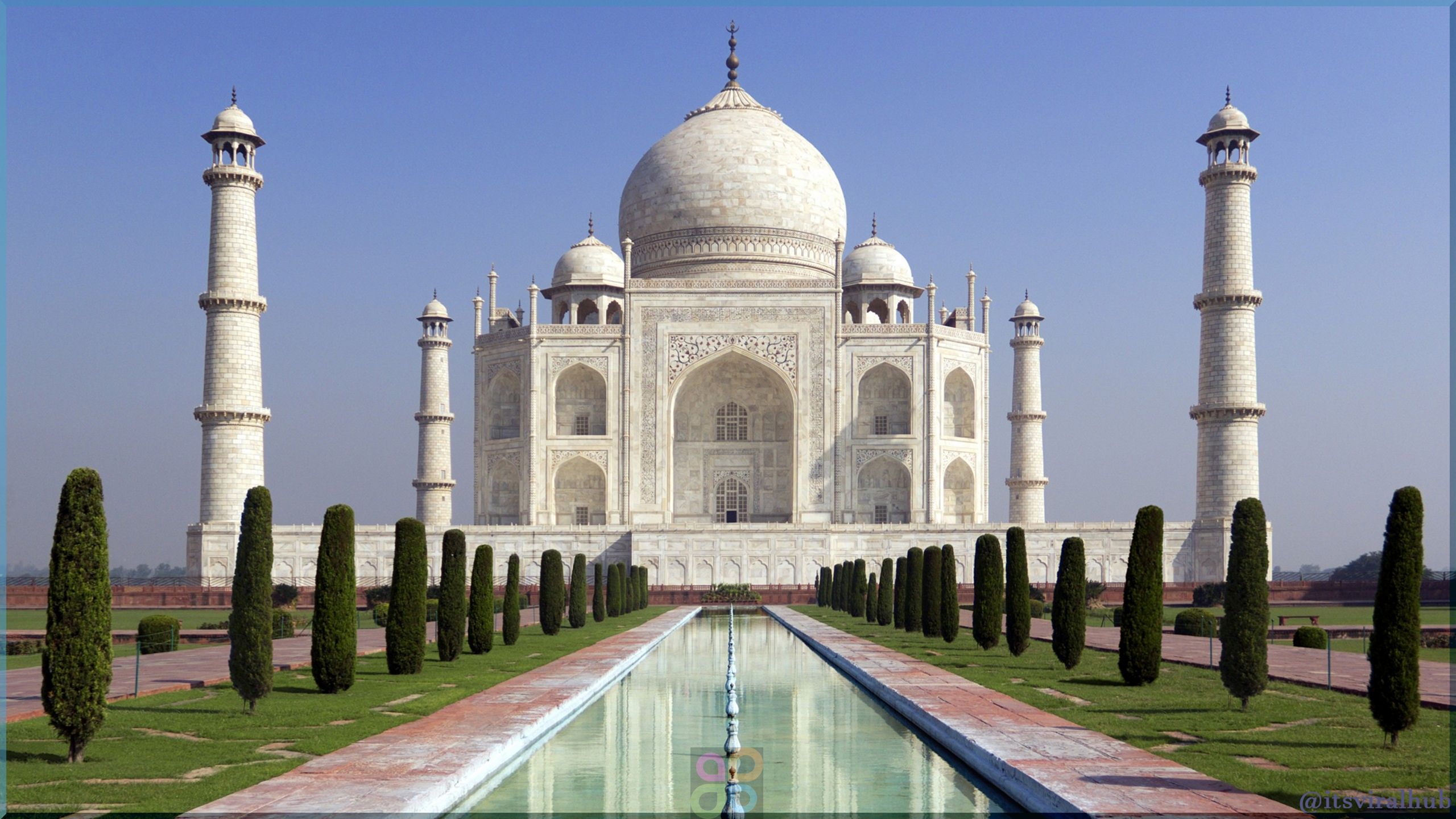 Home to one of the seven marvels of the world, the Taj Mahal, which is a marble landmark worked by Shah Jahan and frequently named as an 'image of affection', the medieval city of Agra is yet another great pick from the pail of goals to visit in North India amid the winter. Agra widens a famous part of the Golden Era of the Mughal Empire. The city has a few other recorded defenses including the Agra Fort and different landmarks and royal residences. It is likewise noted for its conventional culture, design, marble creates, calfskin items and cooking. Amid the winter Agra is stuffed with visitors from everywhere throughout the world however the radiant sight of the Taj Mahal once you get hold of abandons you in a condition of isolation… regardless of who so ever thumps you from behind. Around a hour's drive from Agra, Fatehpur Sikri, which is really popular for its Buland Darwaza, is one of the UNESCO World Heritage Sites in India, and is an unquestionable requirement visit put for explorers having an enthusiasm for Indian medieval history. Further, the Bharatpur Bird Sanctuary makes for a reviving getaway from Agra.
Temperature amid winter: 7°C to 25°C
3. Jaipur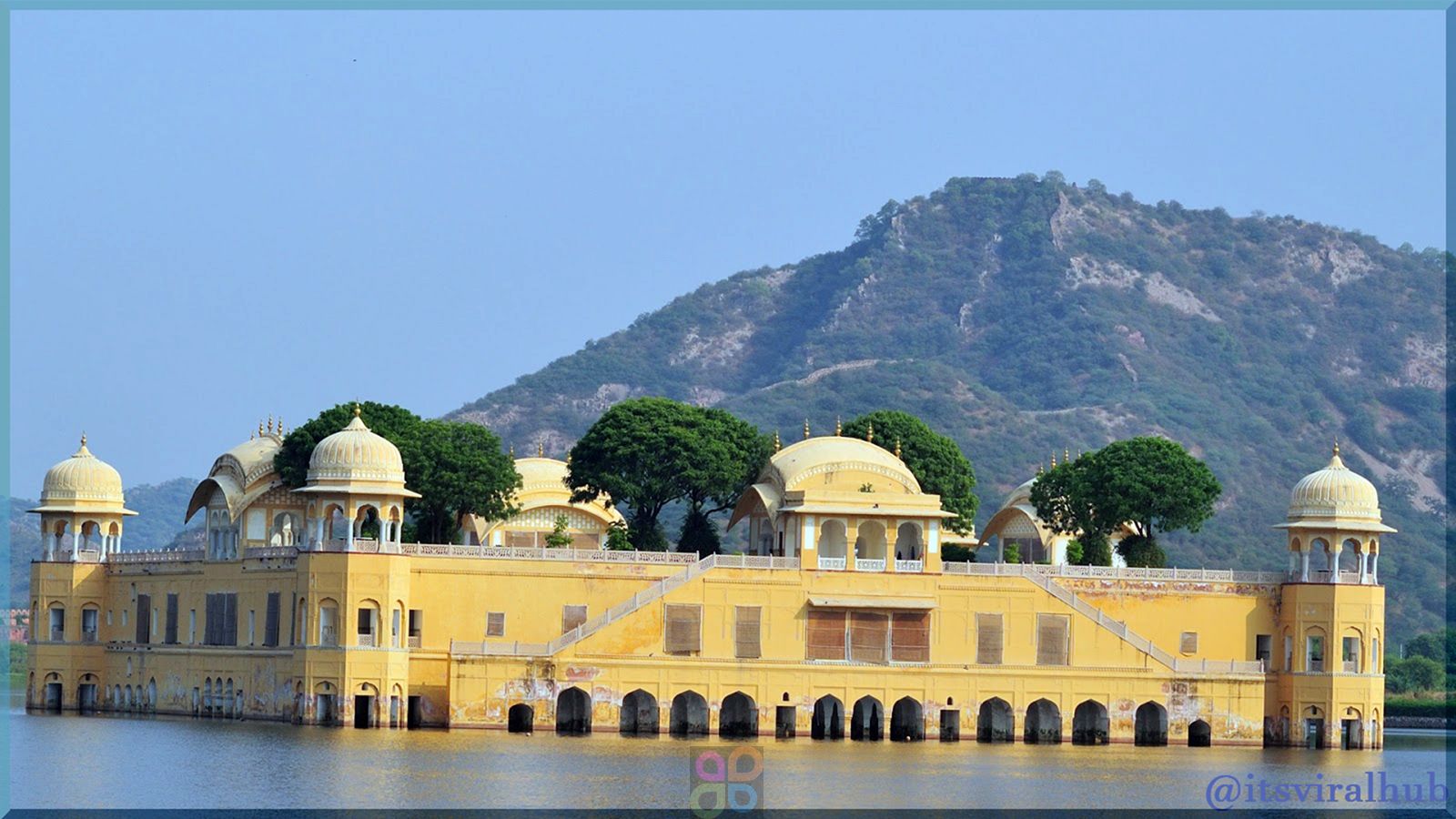 Jaipur, the capital city of Rajasthan, remains steeped in tradition and culture, its fairy-tale castles and rugged forts proudly perched atop hills. Though a blend of tradition and modernity, the colour pink is still synonymous with hospitality. Being of historic significance, the city draws tourists from far and wide, particularly during winter. An explorer can partake in many activities, including heritage tours, shopping for traditional items and jewellery. The City Palace, Hawa Mahal, Jantar Mantar, Lake Palace and Amber Fort are some of the renowned heritage sites. Meanwhile, Nahargarh Fort and Jaigarh Fort stand tall in the outskirts, offering a striking vista. The city boasts several Hindu and Jain temples, including Birla Mandir, Narayan Temple, Galtaji, Choolgiri Temple and Govind Devji Temple. Other popular tourist spots include Ram Niwas Bagh, Dolls Museum, B.M. Birla Planetarium and Ghat Ki Guni. Do not miss the light and sound show at Kesar Kyari in Amber Fort, held every night.
Temperature amid winter: 7°C to 25°C
4.Jaisalmer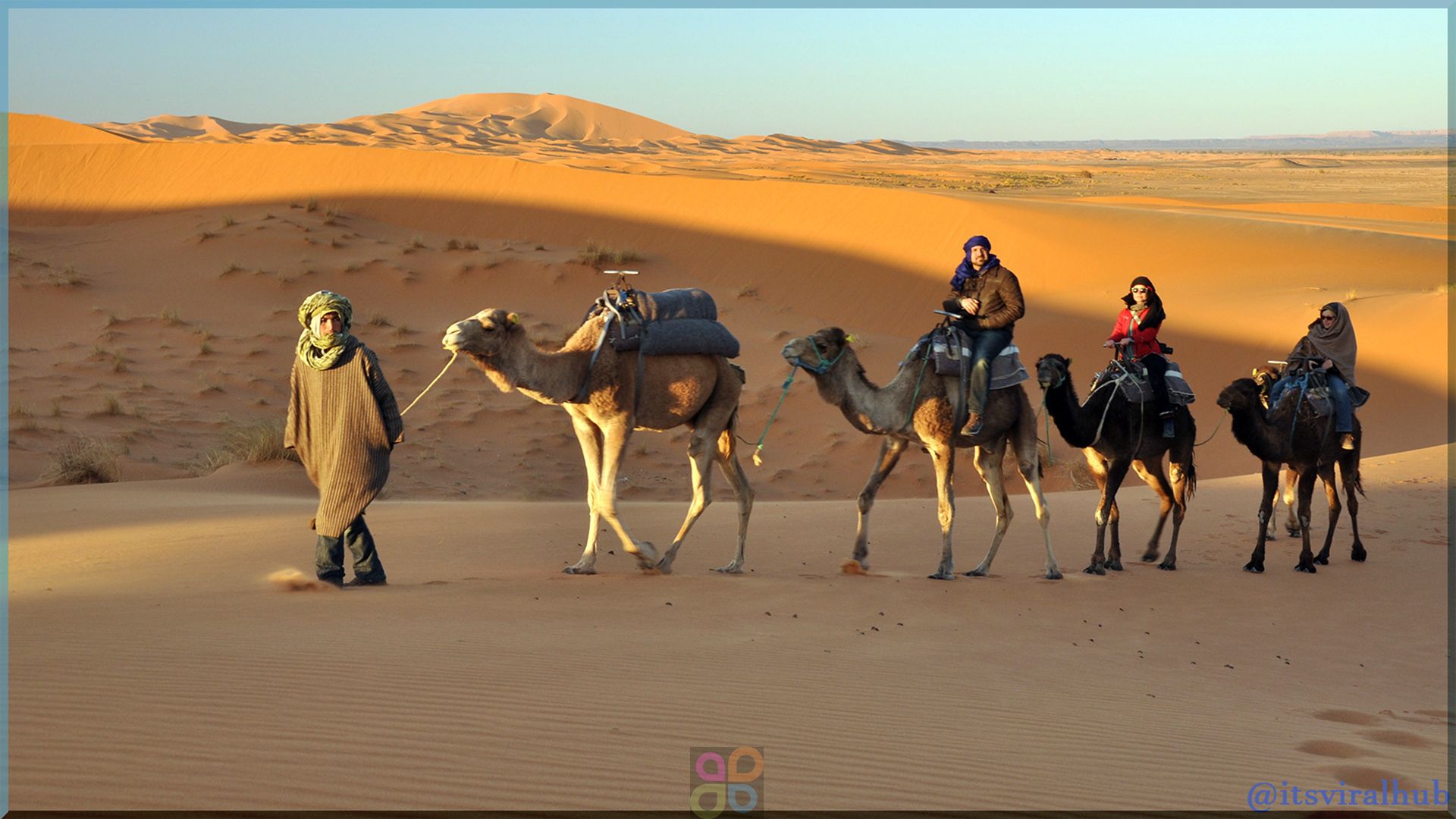 The remote fortress city of Jaisalmer, which is situated amidst the Thar Desert in the mind blowing territory of Rajasthan, is yet another prevalent winter getaway in India. It draws in all explorers including special first night couples, and other recreation voyagers. The city is noted for a few compositional structures having a place with previous rulers. The Jaisalmer Fort, which is otherwise called 'Sonar Quilla', lodging a few havelis and Jain sanctuaries, is one of the wonderful cases of craftsmanship showing the rich Rajasthani style of engineering with characteristically composed dividers, cut windows and veneers. The Nathmalji-Ki-Haveli, Patwon-Ki-Haveli and Salim Singh-Ki Haveli are the real visitor destinations that expand the complicated design and sheer craftsmanship. The Gadisar Lake with various excellent places of worship, and Bada Bagh lodging a few cenotaphs are some other traveler destinations in Jaisalmer. In the edges of Jaisalmer City, the remnants of Kuldhara town, Barna town, Khuri Desert, Moolsagar Palace and Ram Mandir are must visit puts that leave explorers enchanted. Then again… how might you escape from Jaisalmer without a camel safari in the SAM Dunes? That is the best way to investigate the huge extend of the Thar Desert. The best time to visit the SAM Dunes is amid the Jaisalmer Desert Festival, which is held in the long stretch of February. It is the most ideal approach to getting to know Rajasthani people culture.
Temperature amid winter: 3°C to 25°C
5. Udaipur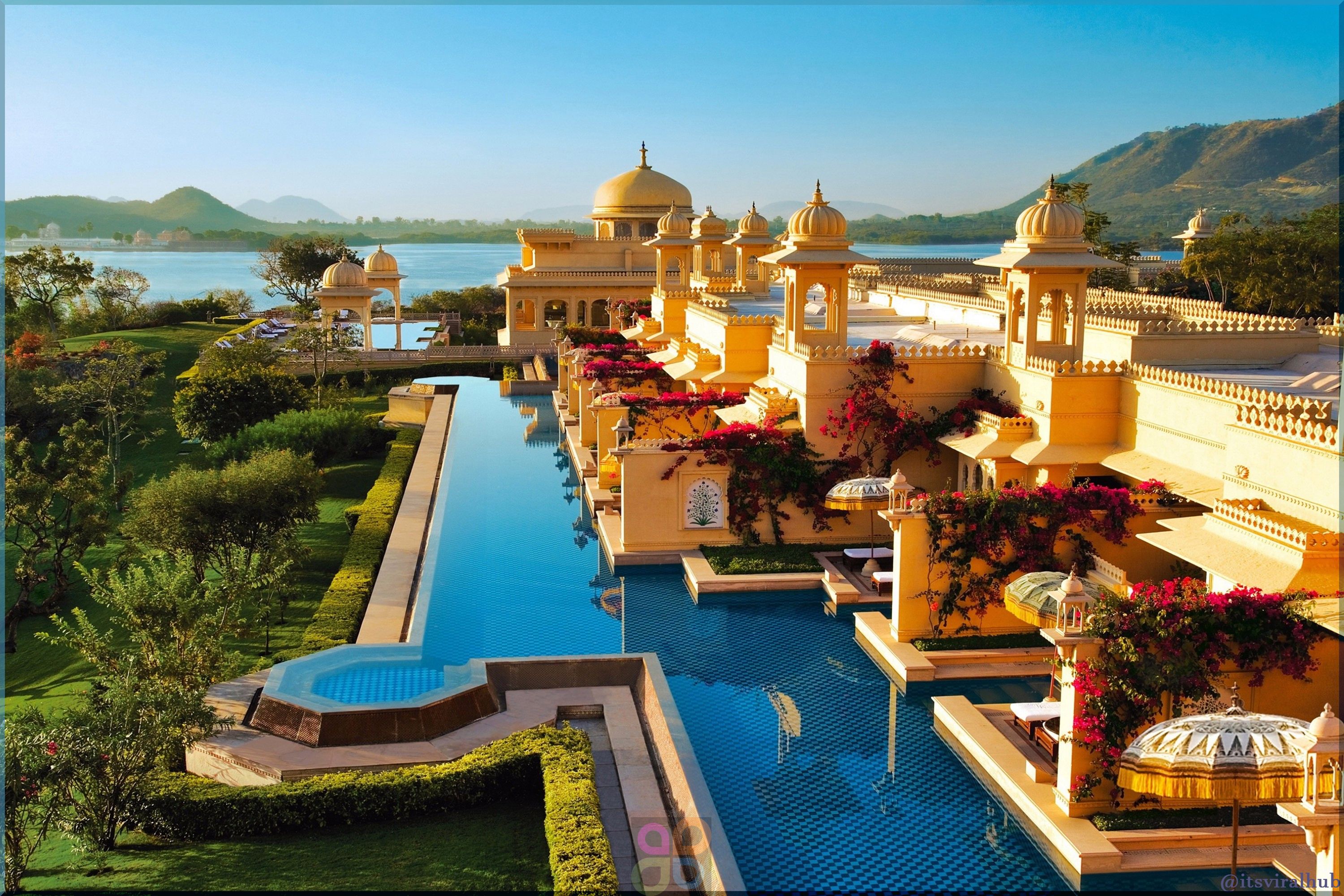 One of the noteworthy urban communities in India that is popular globally as the most sentimental goal on the planet, somewhat as a result of the impact of the Lake Palace Hotel situated amidst the serene water of Lake Pichola… Udaipur amid the winter season pulls in voyagers from everywhere throughout the world. Like some other urban areas in Rajasthan, Udaipur additionally accompanies its own particular legends and quite a bit of its history is obviously noticeable from the photo consummate exhibition facilitating castles, doors, sanctuaries, and interesting back roads. Every single turn and block are safeguarded with gallantry, valor, and valor. However, the city ends up being one of the special first-night goals in India during the winter. The real attractions are the Lake Palace, Lake Pichola, City Palace, Fateh Sagar, and Monsoon Palace. Some different attractions in Udaipur are Gulab Bagh, Ahar, Pratap Memorial, Saheliyon Ki Bari, Jagdish Temple, and Bhartiya Lok Kala Mandir. Near Udaipur, Mount Abu is the main slope station in Rajasthan and is justified regardless of a visit amid the winter. Different outings on your Udaipur visit can be Kumbhalgarh, which is roughly 84 kilometers away, and Ranakpur, which is around 90 kilometers away.
Temperature amid winter: 7°C to 25°C
From the Hills to Mind Haven
6. Manali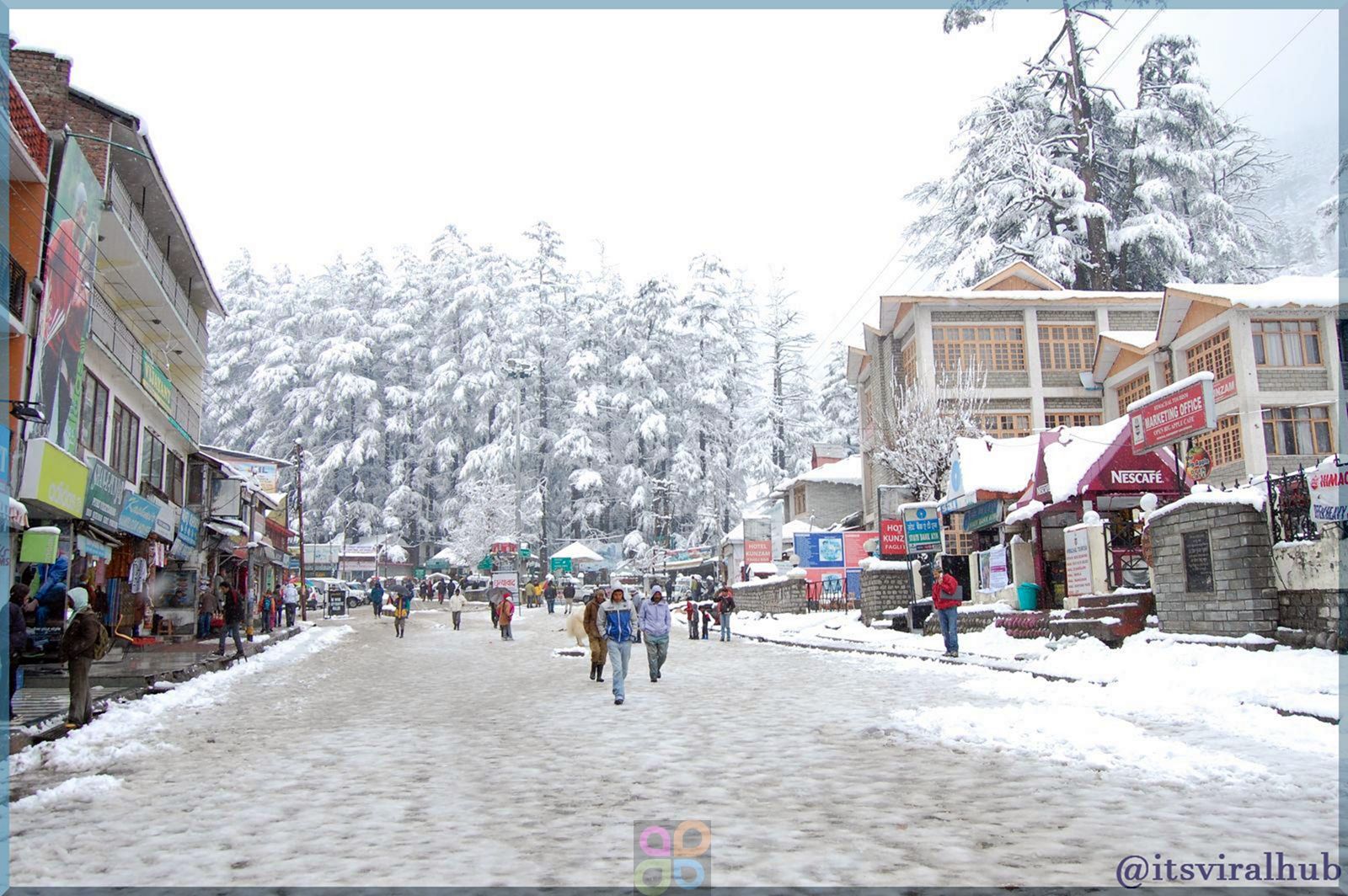 That is my most loved pick whenever of the year and amid the winter when you get the look at snowfall at a young hour in the morning… grasping some hot espresso, your accomplice being comfortable with you in the meantime and the staggering perspectives of unrealistic snow topped mountains bursting the closeness… Ah! Nature here herself showers sentimentalism. I have a craving for moving over the bed by and by and emptying some more flawless minutes into my winter excursion to Manali. "WINK" yet now it's a great opportunity to get nature taking care of business. Manali is one of the famous slope stations in India where peacefulness abides even amidst traveler swarm consistently. Nature here hosts a stunning elevated timberland of Pine and Deodar trees spotted with a few organic product plantations and cows ranches. A hour's drive from Manali to Solang Valley, which amid the winter season ends up being one of the prevalent ski resorts in India, one can here endeavor the nature with a few enterprise exercises like skiing, zorbing and paragliding. Well… the temperature here all through the winter remains solidifying and consequently it is prescribed to convey legitimate woolen pieces of clothing on the off chance that you are intending to go for paragliding in Solang.
Manali is likewise an entryway to a few trekking goals in Himachal Pradesh. Amid the winter season you can go for some short treks in Manali like the Bhrigu Lake trek and Beas Kund trek. Other well known treks around Manali are the Malana Valley and Chandra Tal trek, yet amid winter these treks are hard to get to. Rohtang Pass, which is at a height of roughly 4,000 meters, is a well known traveler goal in Manali being the most astounding point on the Manali-Keylong street. Despite the fact that entrance to Rohtang Pass amid the periods of December, January and February ends up noticeably inconceivable because of overwhelming snowfall, yet some insane trekkers do make it to the point. Is it true that you are one of them?
Other than its amazing normal excellence, Manali is likewise striking for lodging a rich and indigenous Indo-Tibetan culture. The Gadhan Thehchoking Gompa and Nyingamapa Gompa are the two well known Buddhist journey destinations that draw in a few travelers from everywhere throughout the world. The interesting feel of Vashisht town, which is roughly 3 kilometers far from Manali, is additionally justified regardless of a visit on your winter outing to Manali. The town is far-celebrated around the world for facilitating a few hot springs and stone houses with wonderful carvings. Aside from all… the social uproar can be seen completely when you visit Old Manali. The Hadimba Temple and Manu Maharishi Temple are the prominent attractions here. Some other lovely spots to visit around Manali are Katrain which is prevalent for its apple plantations and jog incubation centers; the sanctuary town of Naggar; and Manikaran, which is an imperative Hinduand Sikh journey site.
Temperature amid winter: – 2°C to 15°C
7. Dalhousie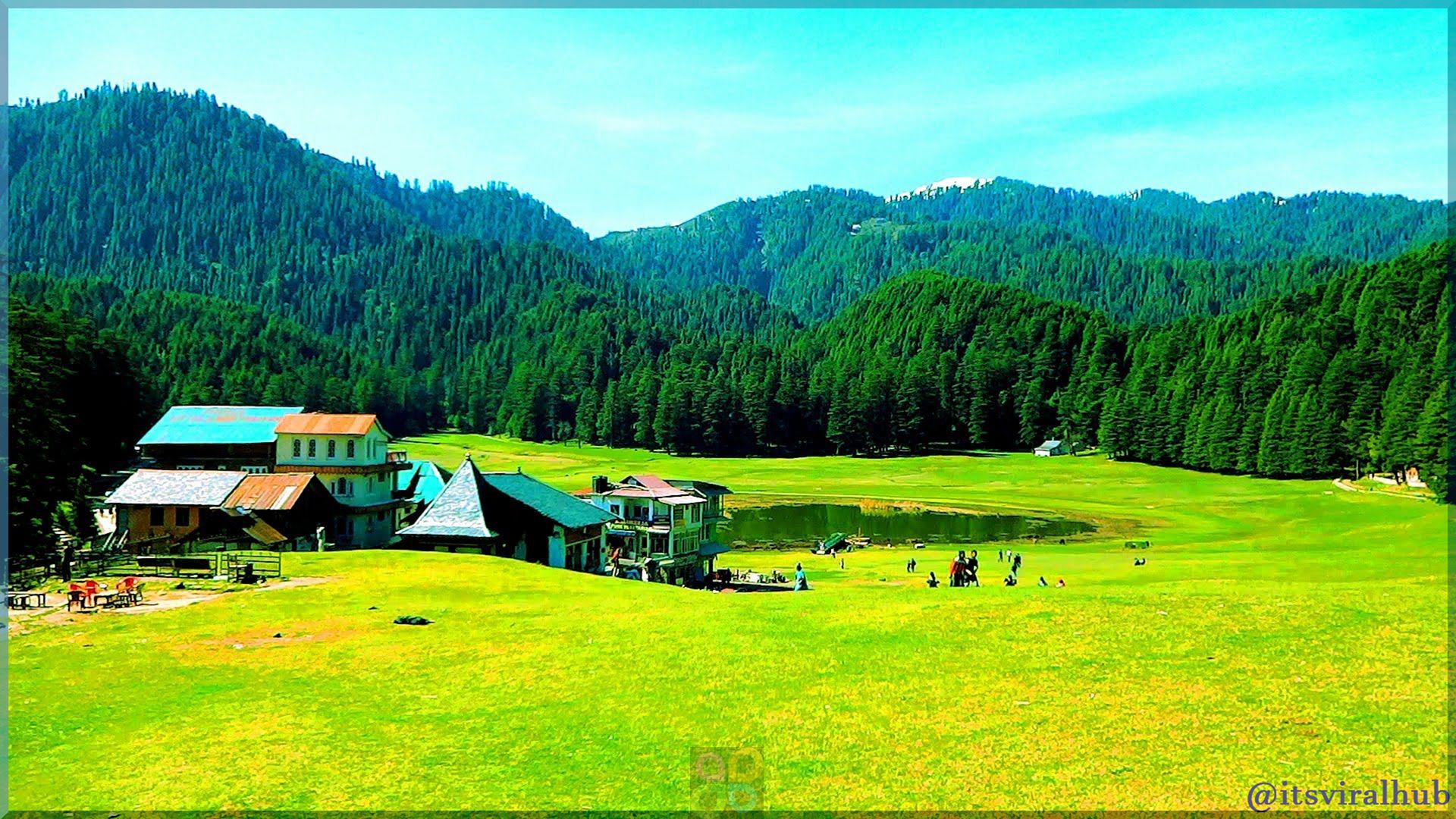 The name itself tosses an unmistakable provincial appeal. Named after the nineteenth century British Governor General Lord Dalhousie, the picturesque slope station in Himachal Pradesh, Dalhousie houses the absolute most wonderful holy places of North India. The St. Patrick's Church, St. Francis Church, and St. Andrew's Church are the most remarkable ones having rich engineering work of their own with stone carvings, glass and wooden structures. Other than the provincial diorama, the town's shifting height spreading out finished the Kathlog, Potreys, Tehra, Bakrota and Balun slopes is significantly set with a thick forest of pines, deodars, oaks and rhododendrons… which practically stays shrouded in snow amid the winter. Truly! Snowfall in Dalhousie amid the winter season is the real fascination. It is the best time to outline the display of the stunning farmland from Panchpula, Bakrota Hills and Dainkund. Around 10 kilometers from Dalhousie, Kalatope is yet another beautiful detect that likewise houses a natural life asylum. Near Kalatope, Ahla town is one of the prominent journey locales in and around Dalhousie. Worked in the tenth century, Laxmi Narayan Temple is one of the finest examples of old design in Dalhousie. Discussing collectibles… you should visit Satdhara, which is a stupa going back to the Murya and Sunga period. Dakshina Murti, Shivkul and Norwood Paramdham are some other social center points in and around Dalhousie.
Temperature amid winter: 1°C to 10°C
8.Kasol
One of the slightest tapped slope stations in Himachal Pradesh that is settled in the lush greens of the thick pines in Himachal's Parvati Valley, Kasol amid the winter season genuinely offers a tranquil end of the week getaway. The residential community on the bank of River Parvati with patches of little towns amidst thick pinewood is an alcove perfect for an improvised nature occasion in the Parvati Valley. Further, the trek to Malana Village, which is one of the strenuous treks in Himachal Pradesh, is a decent alternative for an experience trip amid the winter. A visit to the adjacent Tosh town enables you to get to know the Himachali society culture where individuals are to a great degree affable. In addition, lazing around in Kasol is recently not one alternative for recreation voyagers. Kasol is outstanding for trout angling and subsequently voyagers longing for angling and calculating occasion in the Indian Himalayan district may whizz to Kasol in the winter months.
Temperature amid winter: 5°C to 20°C
9.Kasauli, Himachal Pradesh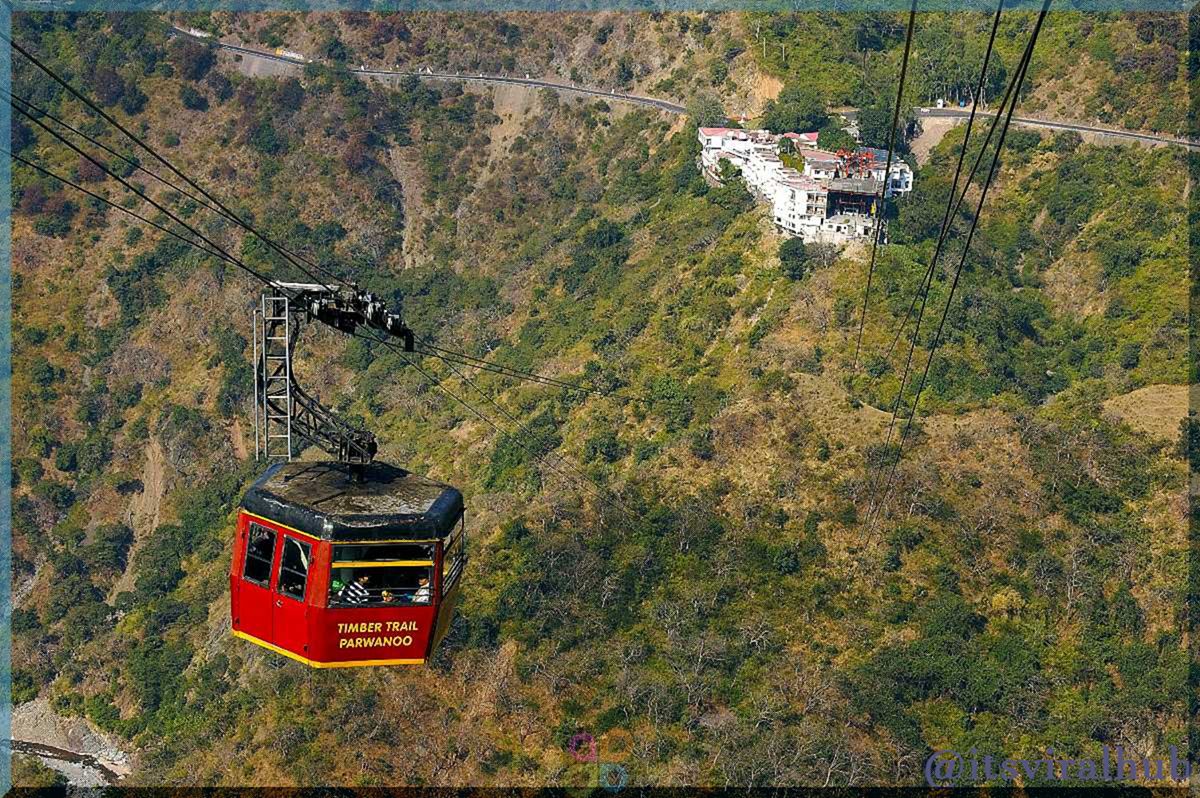 In the midst of the curious pioneer feel, Kasauli unwraps reviving components of nature with the scene of sprawling fields of Punjab and Haryana. The minute may drop your jaws when you discover sight of the blasting floor covering of light as obscurity falls. Kasauli amid the winter season influences a cool escape from the city to tidy to the invigorating environment that is snuggled with thick timberland of pine, oak, and chestnut trees. Its pioneer climate is fortified by extends of cobbled streets, shops, houses with beguiling exteriors and scores of perfect little gardens and plantations. The 'Monkey Point' is one of the must visit puts in Kasauli, which is an imperative journey site. In any case, the Baba Balak nath Temple and Sai Baba Mandir are additionally two different religious destinations in Kasauli. Different attractions in Kasauli incorporate the St. Patrick's Catholic Church that was worked in 1847 AND Sunny Side, which is the most seasoned house in Kasauli, worked in 1848.
Temperature amid winter: 3°C to 15°C
10.Dharamshala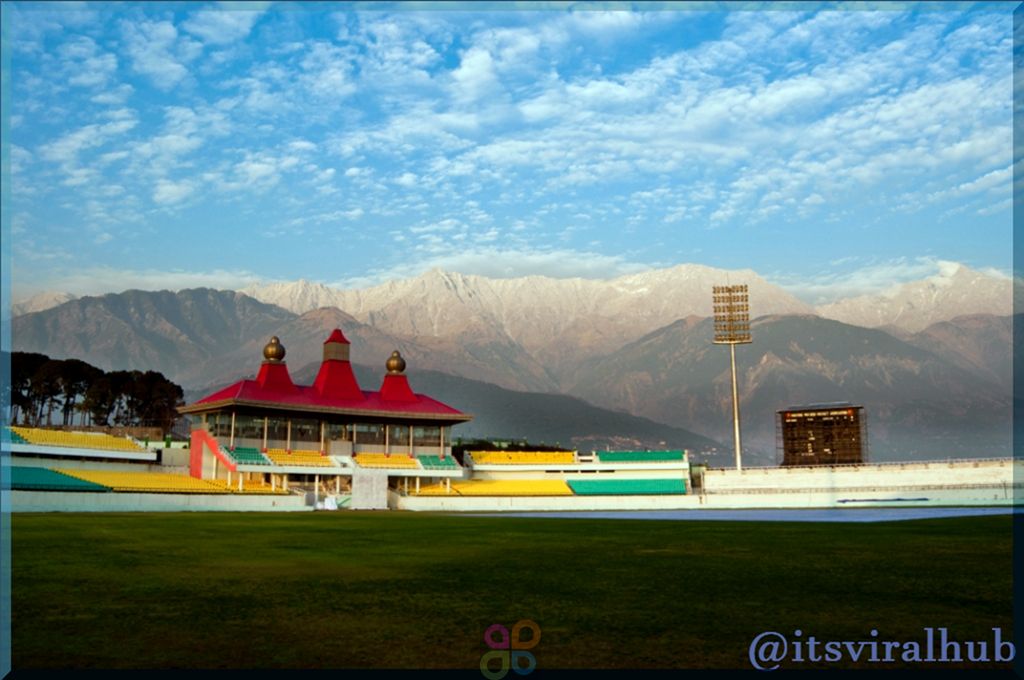 Lauded as one of the pleasant slope stations in India that lies on the goad of the Dhauladhar Range and dabbed with thick forest of Oak and Conifer trees, Dharamshala is no uncertainty an extraordinary escape amid the winter season. It's not just about the particular culture of the Indo-Tibetans that has helped Dharamshala pick up distinction globally as "The Little Lhasa in India", being the seat of His Holiness The Dalai Lama… BUT the customary combination of a few tribal groups makes Dharamshala one of the vital social center points in Himachal Pradesh. A look at it can undoubtedly be seen when you venture into the Kotwali Bazar, which is a decent shopping territory, and McLeod Ganj, which has varieties of shops offering Tibetan painstaking work. Amid the winter season the global cricket stadium disregarding the powerful Dhauladhar mountains is one of the tremendous sights that stay secured with thick fixes of snow. Then again, the Namgyal Monastery is one of the significant vacation destinations in Dharamshala. Some different attractions in Dharamshala incorporate the Kangra Art Museum, War Memorial, Kunal Pathri Temple, St. John's Church, Aganjar Mahadev Temple and Kangra Chamunda Devi Temple.
Temperature amid winter: 1°C to 12°C
11. Shimla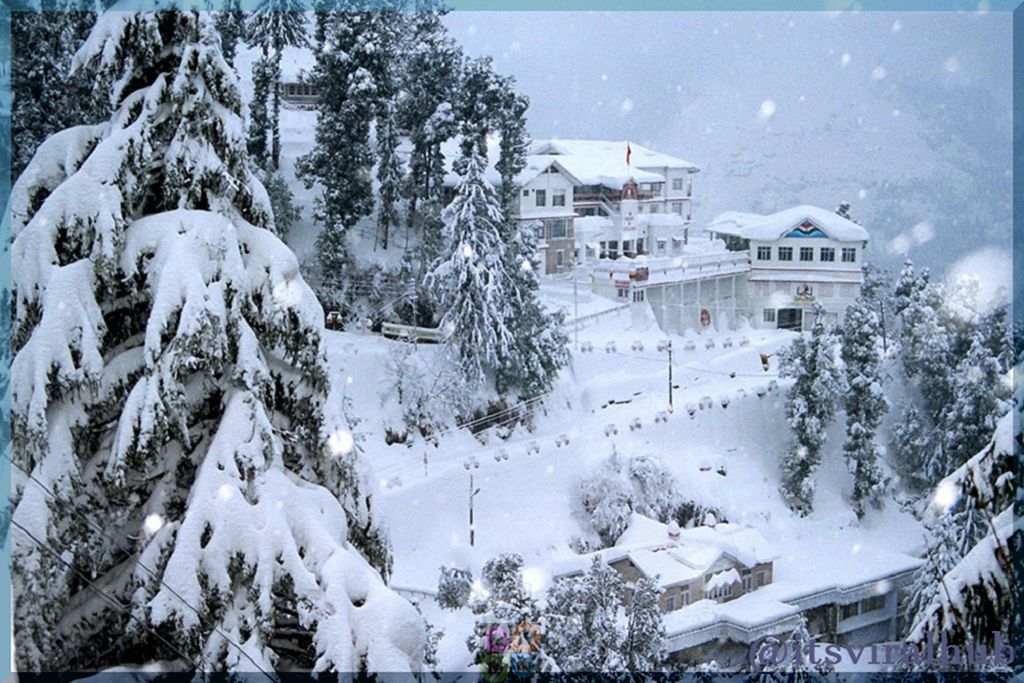 Despite the fact that it stays one of the clamoring slope stations in India consistently, Shimla amid the winter season ends up being a dreamland. The nature herself brags off a beautiful exhibition with layers of snow had relations with over the thick high woodland AND the display from the Ridge of snow topped mountain ranges overwhelmed in the excellence of the nature is justified regardless of a catch. It is the best time, particularly in the periods of December and January, to go for a woods trail that keeps running towards the towns of Kamina and Pabo. On the off chance that you are fortunate some fowl species can likewise be located. A short trek to Tattapani is additionally suggested as one of the experience exercises in Shimla amid the winter season. Further, in the event that you are searching for some more enterprise then simply whizz your wheels a hour winding through the mountains to Kufri, which lies at a height of 2,622 meters and is one of the striking skiing goals in the Indian Himalayan area with changing slants. Exactly when you discover the temperature plunging and you come up short on warm pieces of clothing, look at some quality woolens, coats and shawls displaying down the Mall, which is one of the longest extends of person on foot shopping on the planet. It additionally has varieties of jumps managing in conventional handiworks, little canvases, adornments, metalwares, mats and covers. Near the Mall is the Himachal State Museum, which is one of the finest cases of craftsmanship from the pilgrim period. It displays an immense accumulation of coins, photos and crafted works. The Gaiety Heritage Cultural Complex, which is another pilgrim design worked in a Gothic Victorian Style; Shimla State Museum that was worked in 1974; and George Castle are a portion of the unmistakable vacation spots in Shimla. The temperature may get extremely solidifying amid the winter, BUT one must stride into the Christ Church that was worked by the British in 1857 in the Neo-Gothic style of engineering and is one of the dependable inheritances of the British Raj. Then again, the Jakhoo Temple, which is an antiquated sanctuary devoted to Lord Hanuman, is one of the vital Hindu journey locales in Shimla AND one can even get hold of delightful perspectives of the Shivalik mountains and the adjacent town of Sanjuli. Other mainstream religious destinations are Tara Devi Temple and Sankat Mochan. A visit to Naldhera which has India's most established nine opening fairway and Chail which holds the one of a kind qualification of being the most elevated cricket contribute the world… finishes your visit to Shimla amid the winter season.
Temperature amid winter: 1°C to 12°C
12. Mussoorie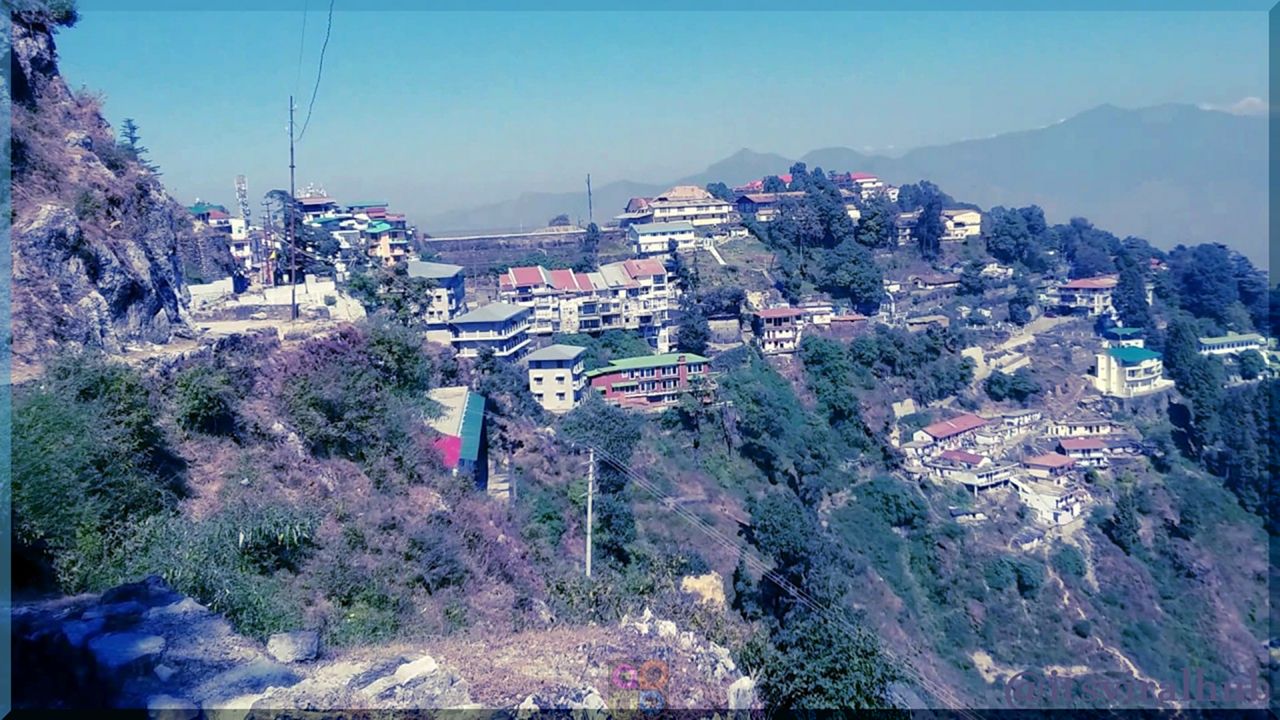 With green cracks of the Doon Valley at a height of 1,880 m, Mussoorie takes one back to the frontier past through its tralatitious tantalizing cooking and eminent structures. With proliferating trekker-accommodating region, staggering chatoyant normal display and glistering lakes, Mussoorie is likewise dabbed with slushing waterfalls and shrubby woods. Kempty falls while in transit to New Tehri is the most famous traveler goal. Among the few other vacationer spots, Sir George Everest House is frequently gone to by visitors.
Temperature amid winter: 5°C to 20°C
13. Nainital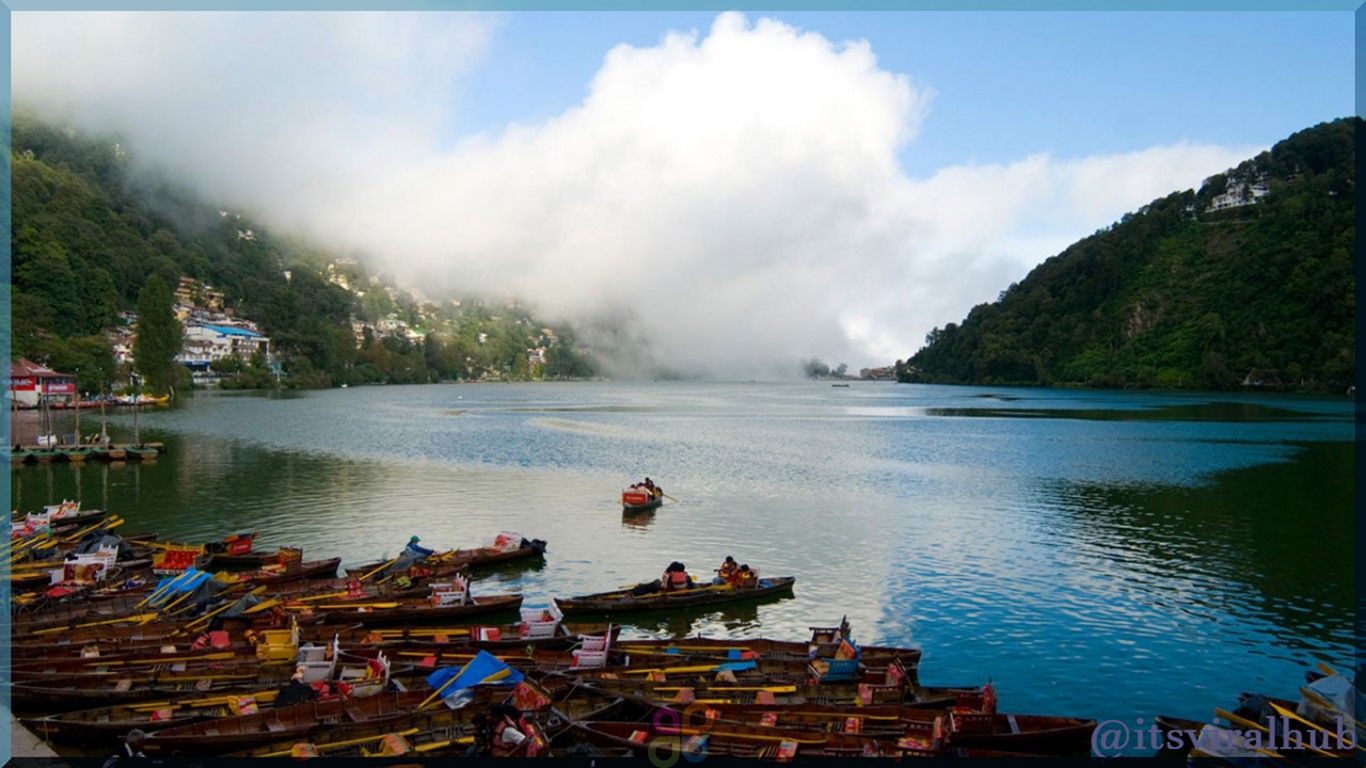 Situated in the Kumaon area, Nainital, prominently known as the Lake District in India, is the end of the week entryway for near local visitors and a bewildering sashay for remote vacationers round the year. At a tallness of 1,938 m, Naini Lake, holding an interminable Hindu myth, is a late spring retreat in the core of Nainital. A horse ride or a short trek up to the Naina top, on the way through shrubby timberlands, at a rise of 2,615 m, which is the most noteworthy point in Nainital, offers an all encompassing perspective of removed snow-clad pinnacles like Nanda Devi, Trishul and Nanda Kot. These pinnacles can likewise be aware from Snow View Point. Situating towards a journey for more normal temperance Nainital is reinforced with recluse goals like Mukteshwar, offering an unhindered perspective of grand Himalayan range; Bhimtal Lake, which is bigger than Naini Lake; Sat Tal, a group of seven little interconnected lakes in the spiritualist oak timberland; Khurpa Tal, a trowel lake; Naukuchia Tal, a nine-cornered lake; Kilbury, an end of the week outing spot well known for its widely varied vegetation and Pangot, a thick woodland of oak, bamboo and deodar.
Temperature amid winter: 2°C to 15°C
14. Ranikhet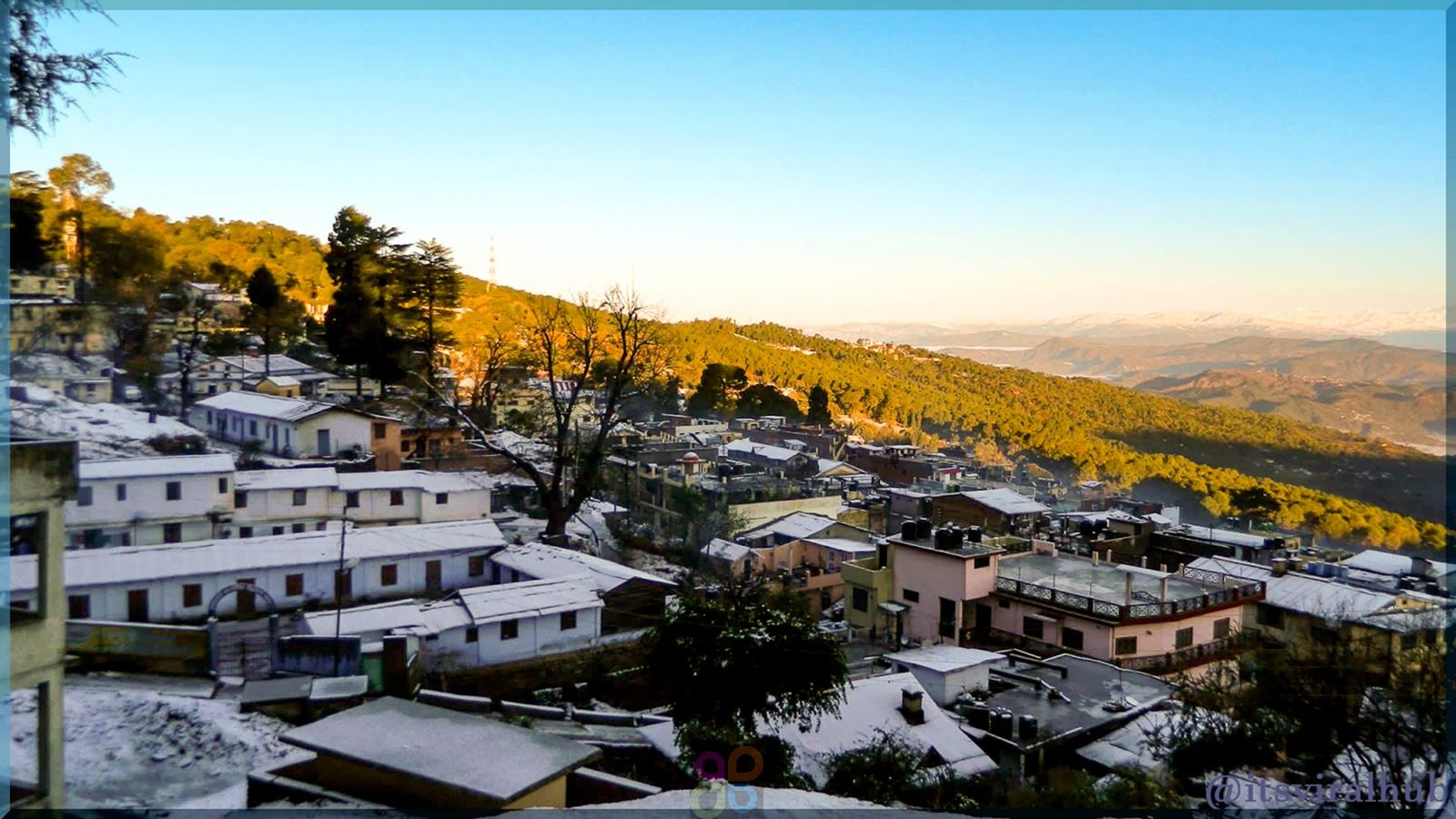 The "Ruler's Meadow" with rich green conifer backwoods, generous vibe, serene environment, emerald green valleys and old sanctuaries is footsure making it a year-round goal for sightseers. Ranikhet, the modest slope heaven, is only two or three hours drive from Nainital.
Temperature amid winter: 7°C to 20°C
15. Kausani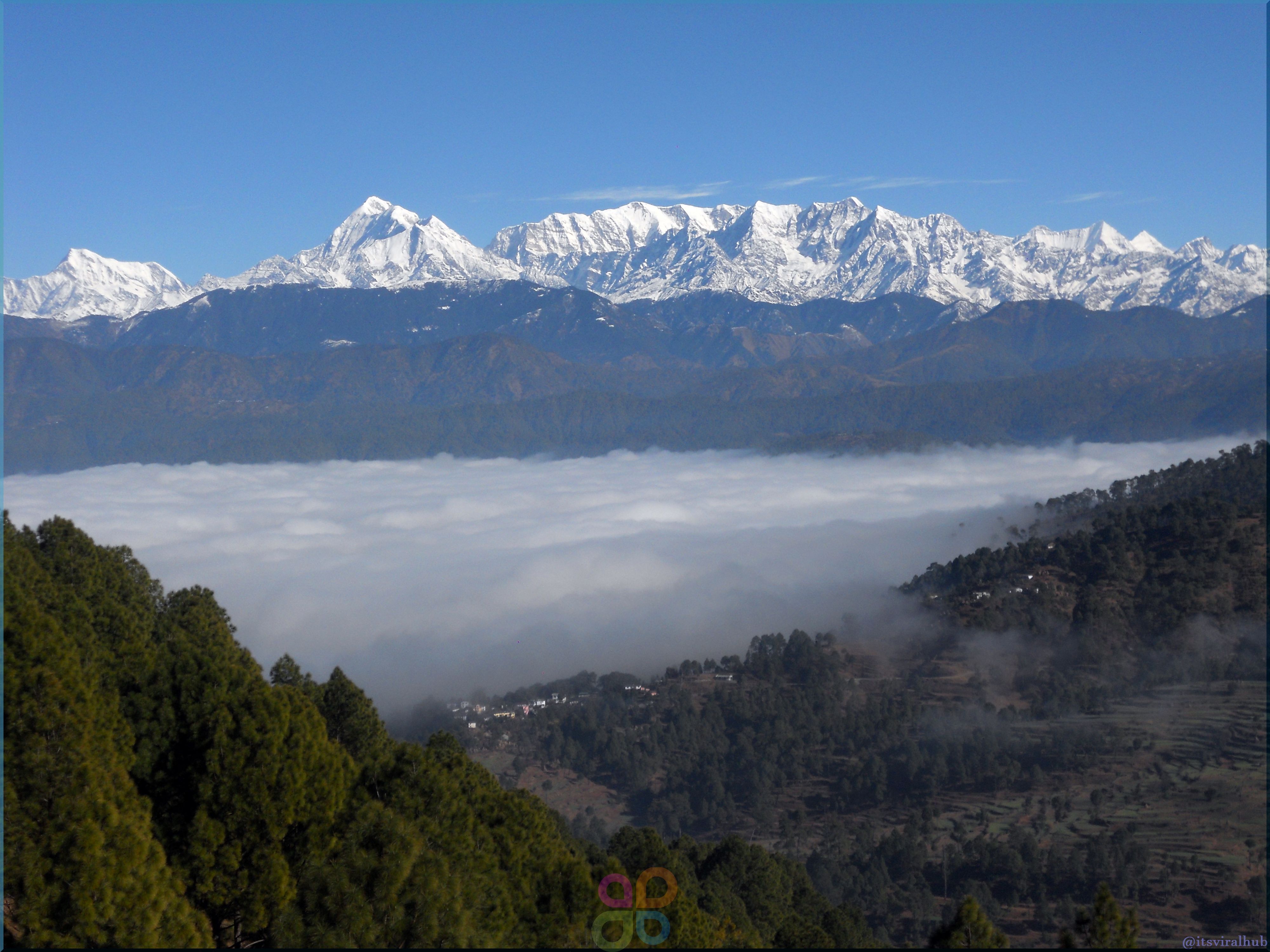 Nestled in the slopes of Garhwal, Kausani is an exceptional fort with a striking view of the Someshwar Valley on one side, and the Katyuri Valley on the other. A landscape dotted with dense pine trees, overlooking the majestic Himalayan peaks like Trishul, Nanda Devi, and Panchchuli, makes this hill station a unique travel destination in the Garhwal region.
Kausani has been a favored destination for many notable personalities like Mahatma Gandhi and Sumitranandan Pant, drawn to its picturesque setting. One of the major attractions in Kausani is the Anashakti Ashram, where Gandhi wrote his speech on Anashakti yog, during his stay. The ancient Baijnath Temple, dating back to the twelfth century, and the Someshwar Temple, built by the Chand Dynasty, are the main pilgrimage spots around Kausani, and are considered historically significant.

For spiritual seekers, Rudrahari Mahadev Temple while en route to the Adi-Kailash trek, is another must-visit site near Kausani. During winter, the Kausani Tea Estate transforms into a wonderland and is spread over 208 hectares. The estate starts from an elevation of 1,200 meters reaching up to 1,800 meters.
Temperature amid winter: 2°C to 15°C
16. Lansdowne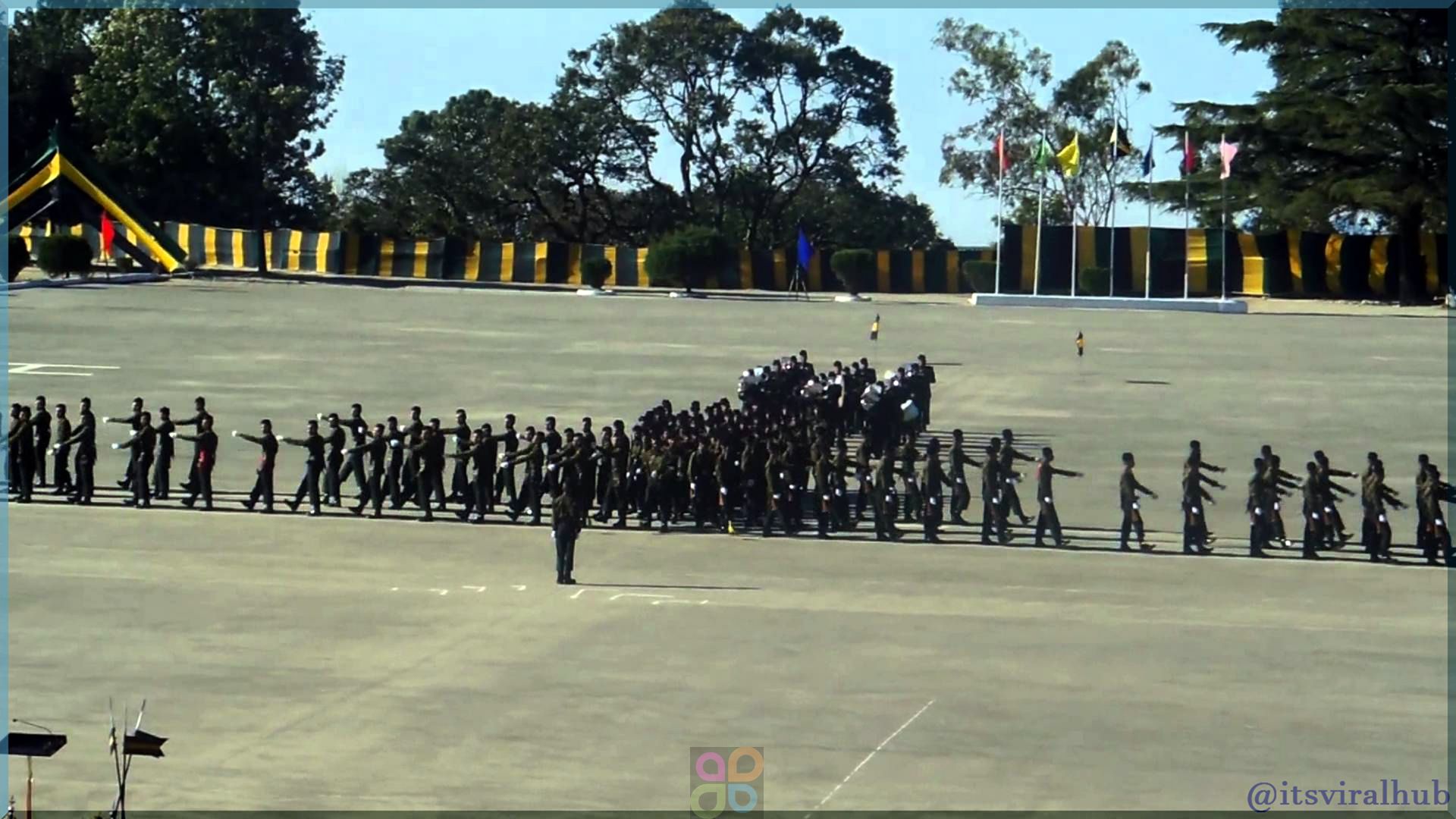 One of the curious slope stations in the Garhwal Himalayan district, Lansdowne in spite of being a well known end of the week getaway from adjacent urban communities is remote in its own specific manner. The pilgrim air encompassed by the perfect condition that is thickly had relations with oak and pine timberland speaks to a combination of history and nature. Amid the winter season the salubrious climate leaves a permanent effect on the visitors. It is the ideal place where you can enjoy a few recreational exercises like birding, drifting and climbing. The great perspective of the Himalayan reaches from Tip-In-Top basically makes your outing to Lansdowne a paramount one. It merits catching the display of India's most elevated pinnacle, Nanda Devi, and its encompassing crests starting here. Near Tip-In-Top, the St.Mary's Church is one of the finest cases of the rich design from the provincial time that draws in a few voyagers. The Garhwal Rifles Regimental War Memorial, Garhwali Mess and St. John's Church are some other significant attractions in Lansdowne. Bhulla Tal is another famous visitor spot having verifiable noteworthiness. A short trek to Hawaghar that goes through Khyber Pass is suggested for those searching for some enterprise exercises amid the winter season in Lansdowne.
Temperature amid winter: 5°C to 17°C
17. Rishikesh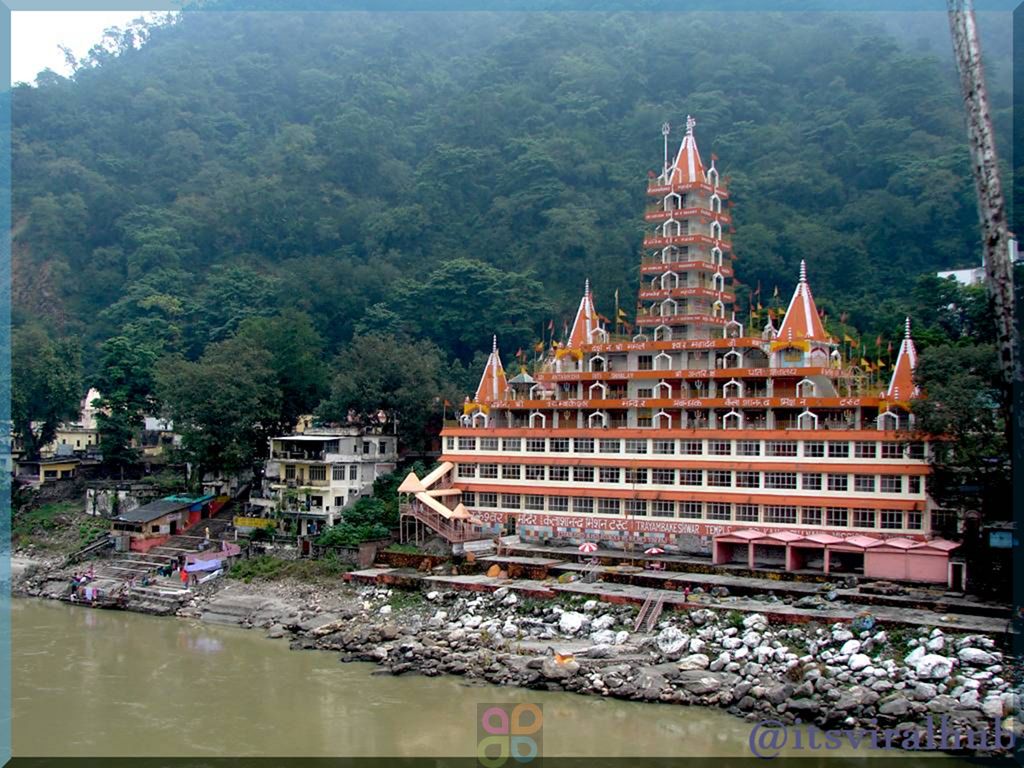 "The yoga capital of the world", Rishikesh, isolation of reflection and yoga, solenoid for feel, is in the foothills of Himalaya. The religious town, at the end of the day is additionally far-well known for wilderness boating and portal to unsafe trekking goals. Laxman Jhula (hanging span) over the River Ganga is one of the significant attractions other than sanctuaries and ashrams.
Temperature amid winter: 7°C to 20°C
Read Also: Amazing Places To Visit In North India
18. Auli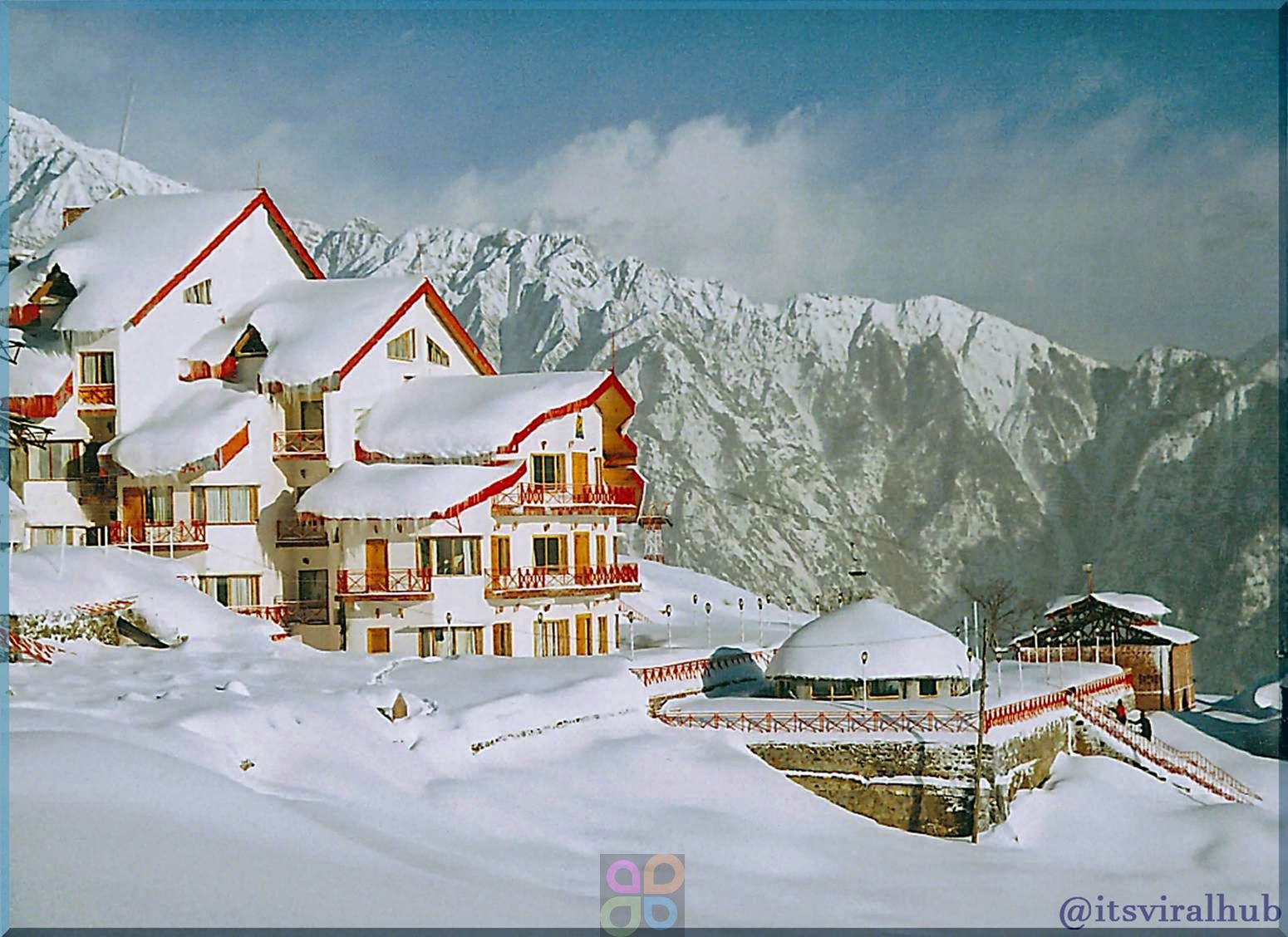 It is the ideal sanctuary amid the winter season for experience darlings. Throughout the years Auli has picked up unmistakable quality as extraordinary compared to other ski resorts in India and is a door to various trekking goals in the Garhwal Himalayan district. The grand view from the link auto of the elevated Himalayan pinnacles like Trishul, Mana, Kamet and Nanda Devi without a doubt abandon you in a 'Significant serenity'. Treks like Auli-Gorson, Kuari Pass and Tapovan additionally enables you to get to know the snow-ladden wild of the Garhwal Himalaya amid the winter.
Temperature amid winter: – 4°C to 14°C
19.Srinagar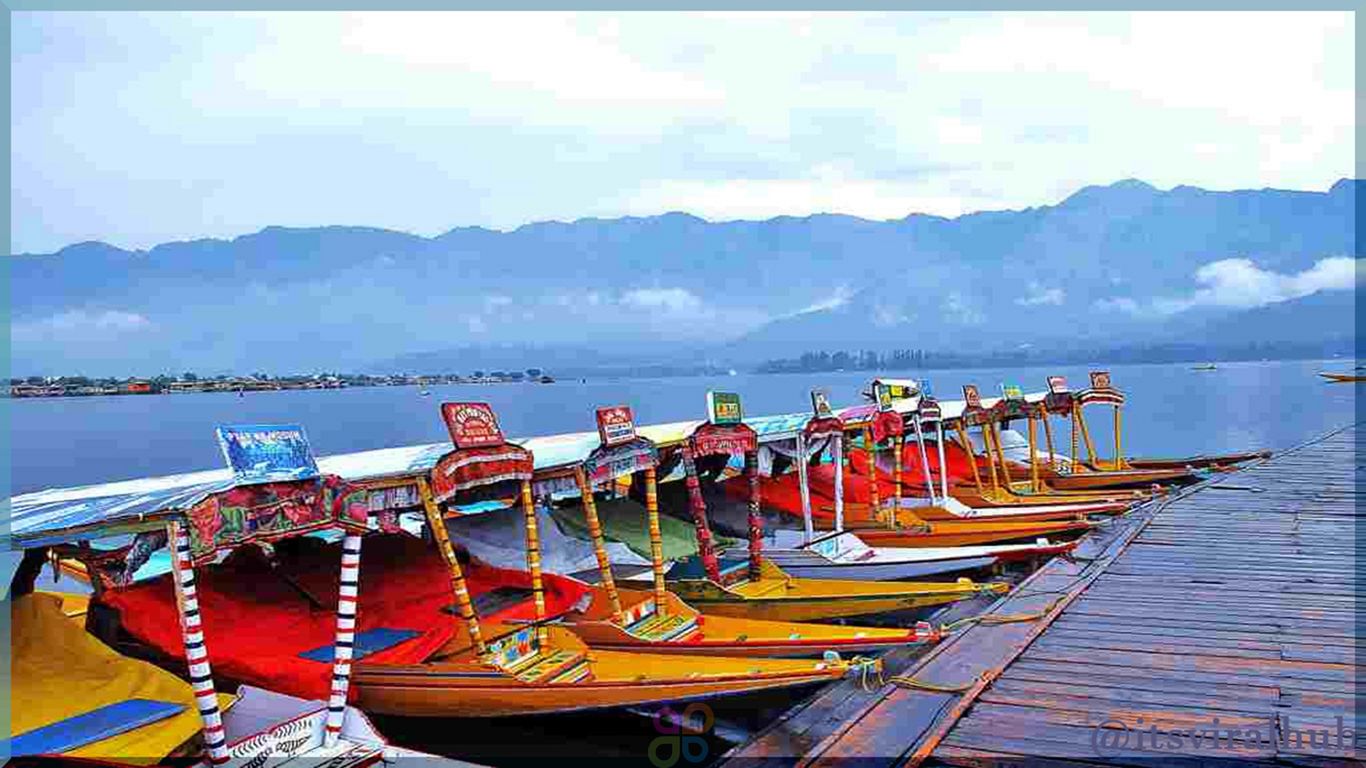 No matter what happens Srinagar with its shining Dal Lake, brilliant greenhouses and beautiful nature has dependably pulled in explorers since time immemorial. Be that as it may, in the event that you are flying out to Srinagar amid the winter season… at that point you will discover quite a bit of its common magnificence wearing snow. The Dal Lake stays solidified nearly from December to February and henceforth there is minimum probability that you can go for a shikara ride. Try not to stress… you have much to investigate in the city notwithstanding amid the winter. Numerous explorers go to Srinagar amid the winter just to encounter the snowfall. Roosted at a rise of 1,585 meters in the landlocked region of Kashmir, the city is generally impacted by the overwhelmingly Muslim culture that reflects from the few landmarks including tombs and mosques. The Hazratbal Shrine, Jama Masjid, Aali Masjid, Stone Mosque, tomb of the mother of Zain-ul-abidin and tomb of Pir Haji Muhammad are the significant visitors' attractions in Srinagar. Then again, the conventional Kashmiri handiworks – pashmina shawl, flatware, brassware, wooden furniture, cover and floor covering – essentially catch the creative energy of explorers looking for the social pith of the Kashmiri individuals. The Arts Emporium and SPS Museum are the best places to visit in Srinagar where varieties of customary Kashmiri crafted works are in show. The Pari Mahal disregarding the Mughal plant, Nigeen Lake and Royal Springs Golf Course are some other significant vacation spots in Srinagar. The Old City of Srinagar having a curious appeal holds explorers mind. The Hari Parbat is one of the real attractions in old city of Srinagar. Ok! Remember to spend a few evenings in a houseboat… that is one of only a handful couple of sumptuous exercises in Srinagar WORTH encountering.
Temperature amid winter: – 5°C to 15°C
20. Gulmarg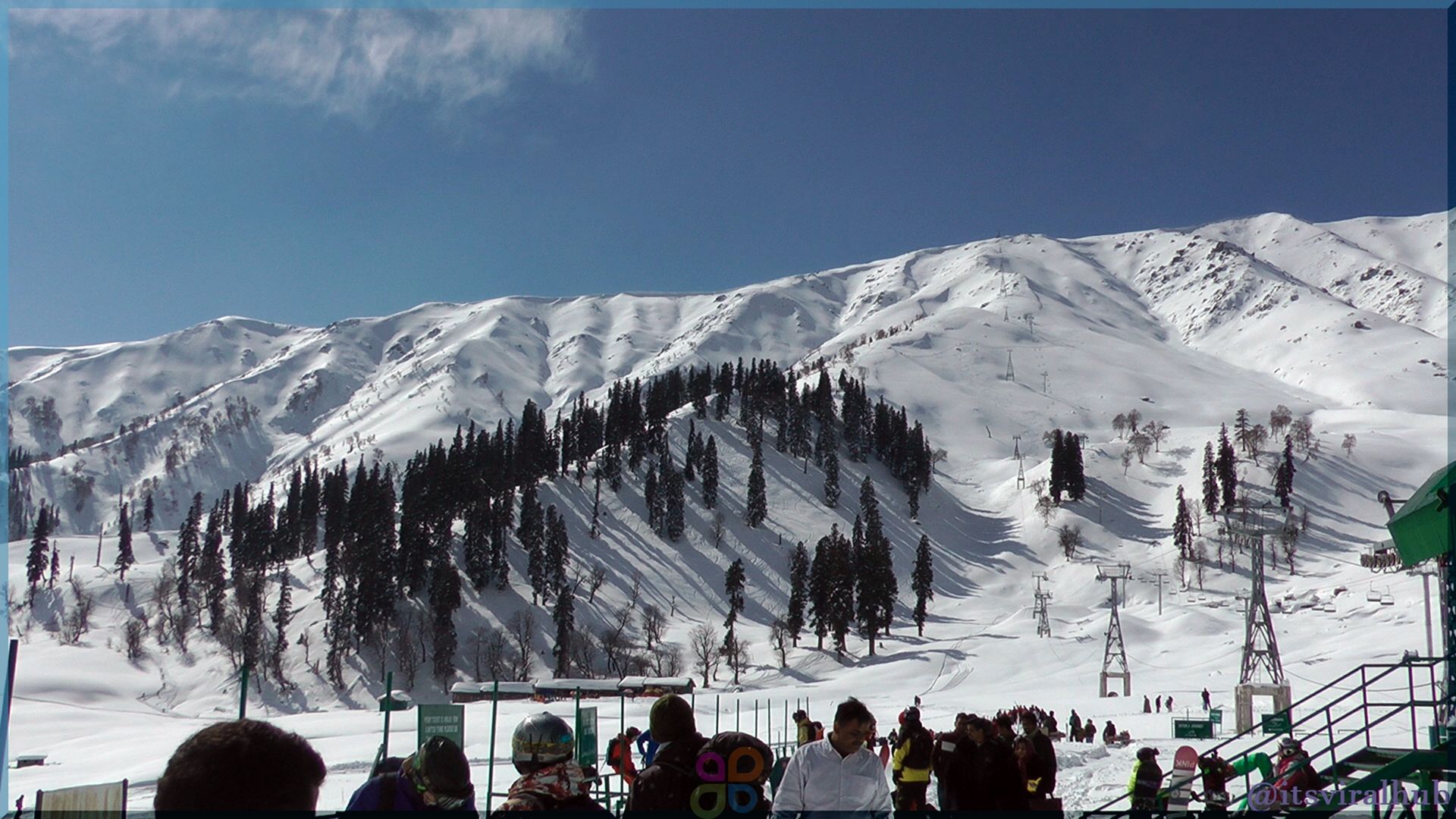 At the point when the sprawling green knolls of Gulmarg are had relations with thick layers of snow… it grabs the psyche of some audacious pioneers who cool their foot sole areas the whole year only for an exciting winter occasion in Kashmir in Gulmarg. It sounds like I'm discussing some insane skiers sliding down the mountain slants and shearing through the ice, which is no uncertainty a fascination in the event that you are an onlooker. Be that as it may, when you are on the ski the story is somewhat unique. Gulmarg at a rise of 2,690 meters is one of the prominent skiing resorts in India and furthermore a perfect winter getaway for recreation searchers. The amazing perspective of the Himalaya from the 'Gulmarg Gondola', which is one of the most elevated link autos on the planet, achieving roughly 4,000 meters, is another significant vacation destination in Gulmarg. The Alpathar Lake, which stays solidified amid the whole winter season; Baba Reshi Shrine, which is committed to a Muslim researcher and holy person Baba Reshi; and St. Mary's Church, an enthusiastic and religious legacy from the pilgrim period are other visitor spots in Gulmarg. Explorers looking for more enterprise may go for short climbs OR treks. Gulmarg-Khilanmarg, Gulmarg-Apharwat and Gulmarg-Alapther trekking trails are extremely famous among the trekking fans. Magnificent perspectives of Nanga Parbat, captivating snow secured valleys and thick woodlands influences a voyager's enterprise to occasion in the Indian Himalayan regiona restoring one.
Temperature amid winter: – 3°C to 19°C
21.Pahalgam

Pahalgam is a safe house for leisurescapers notwithstanding amid the pinnacle winter season when the whole mountain extend and additionally the harsh landscape is consummately layered in snow. It is one of the prevalent slope stations in north India and is roosted at a rise of 2,740 meters in the stunning Kashmir Valley. With its rich verdure and snow clad mountains, Pahalgam makes for a flawless wide open winter escape from Srinagar. The Betaab Valley having huge regular introduction, which is roughly 15 kilometers from Pahalgam, is another lovely place to visit for explorers. Stallion riding is one of the must-do things when you are in Pahalgam. Enterprise exercises in Pahalgam additionally incorporate the trek to Sheshnag Lake and waterway boating in the River Lidder. Aru Valley makes for another wonderful trip from Pahalgam amid the winter season. It is noted for its beautiful knolls and shining elevated lakes.
Temperature in Pahalgam: – 3°C to 12°C
22.Patnitop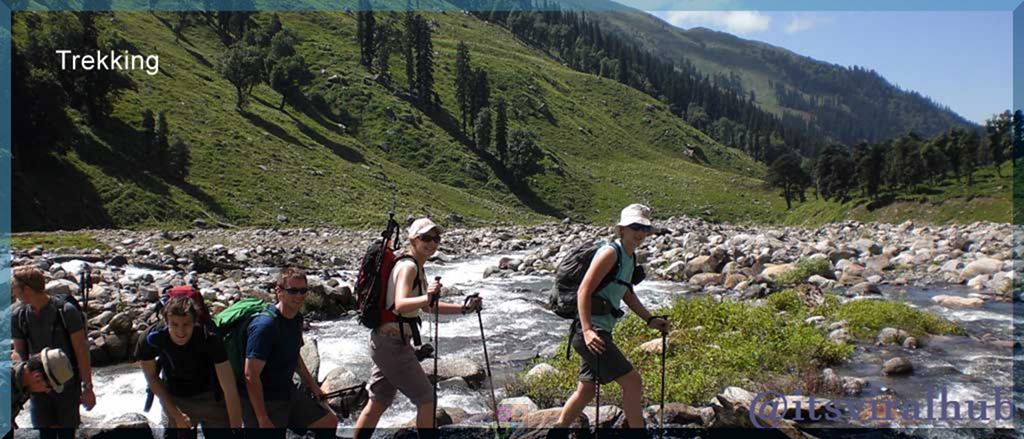 It is another astounding cold center you have picked; Patnitop amid the winter winds up plainly great for any explorer. It offers staggering perspectives of the Pir Panjal range and has a few enterprise exercises like paragliding, trekking, climbing, outdoors and shake climbing. Paragliding in Patnitop turns into somewhat intense amid the winter season in light of the solidifying temperature, BUT in the event that you are arranged at that point that is going to make your vacation in Kashmir all the more energizing. Further, outdoors and beautiful nature strolls in the region of Sansar Lake, which is roughly 20 kilometers from Patnitop, are two noteworthy exercises worth a strive for recreation explorers. Little towns like Kud and Batote close Patnitop, encompassed by thickly lush Cedar and Pine backwoods, enable you to absorb the enchanting Kashmiri culture.
Temperature in winter: – 3°C to 18°C
From the Nature that Breathes Wild
23. Jim Corbett National Park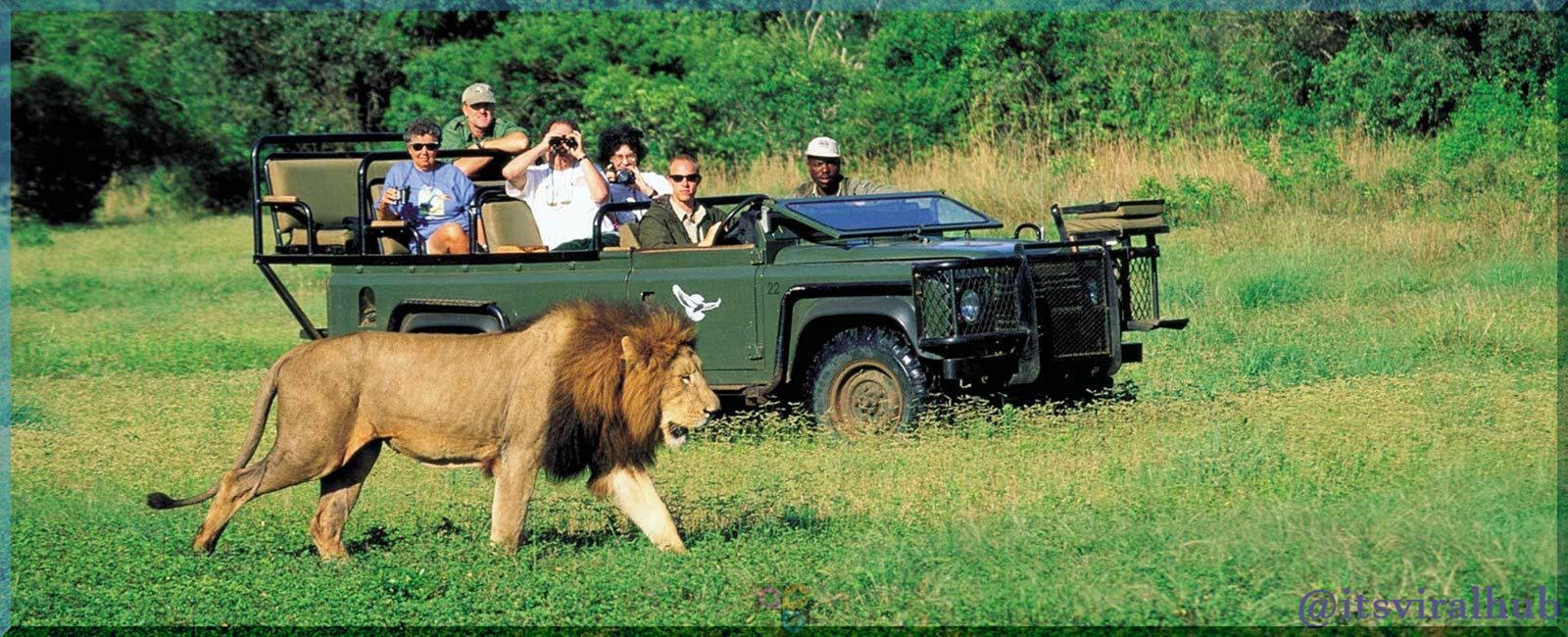 Home to a few creature, fowl and plant species, the Jim Corbett National Park in the foothills of the Kumaon Himalaya is one of the reviving and exciting winter escapes in North India. The stunning condition of slopes, waterfalls, rivulets and thick timberland abounding with numerous uncommon types of plants basically makes it an asylum for naturalists. It is the most established national stop in India and is likewise the principal Tiger Reserve. The Jim Corbett National Park is spread over a range of 521 square kilometers and is home to a few creature animal types like tiger, panthers, wilderness feline, angling feline, panther feline, yelping deer, sambar deer, hoard deer and chital, Sloth and Himalayan mountain bears, Indian dark mongoose, otters, yellow-throated martens, Himalayan goral, Indian pangolins, and langur and Rhesus macaques. Among the winged creature species… the peaked serpent bird, bloom headed parakeet and the red junglefowl are the real attractions. Amid the winter season the Jim Corbett National Park ends up plainly one of the busiest untamed life safari zones in India. A huge number of natural life fans from everywhere throughout the world visit get hold of the rich green loaded wild on their untamed life safari visit in Jim Corbett National Park.
24. Ranthambore National Park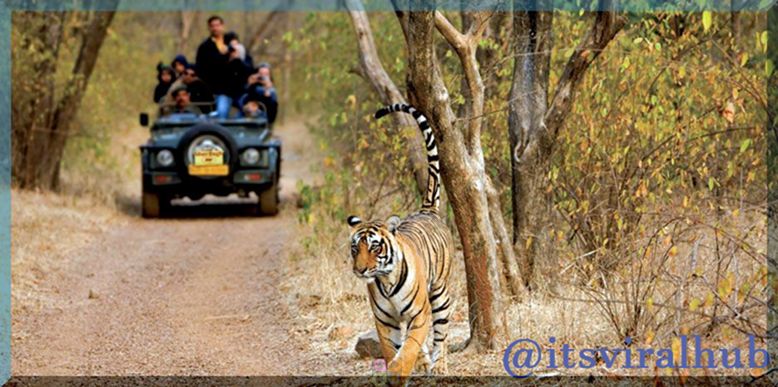 Located approximately 150 kilometers from Jaipur, Ranthambore National Park is a prominent Indian wildlife sanctuary in the breathtaking region of Rajasthan. It boasts the largest population of tigers in India and is home to numerous other animal and bird species. Among the animal species, leopards, nilgai, wild hogs, sambar deer, hyenas, sloth bears, and chital are the major attractions, while graylag geese, woodpeckers, common kingfishers, bee-eaters, cuckoos, parakeets, Asian palm swifts, owls, nightjars, pigeons, doves, crakes, sandpipers, great crested grebes, eagles, egrets, herons, ibises, pelicans, storks, cuckoo-shrikes, minivets, flycatchers, wagtails, munias, bulbuls, mynas, and falcons are common sightings among the bird species.
The national park spans an area of 392 square kilometers and features dry deciduous forests sprawling over an undulating landscape across the Aravalli and Vinddhyan ranges. The stunning Jogi Mahal and remains of Ranthambore Fort are the two historical attractions inside the park. Additionally, Padam Talab, Rajbagh, and Milak Talab are the three most breathtaking sites where you can catch a glimpse of several species of animals and birds, including tigers, on your wildlife safari visit in Ranthambore National Park.

During the winter season, the park remains a hotspot for several wildlife lovers as it is the best time to explore nature and wildlife at its finest. Some other attractions around Ranthambore National Park include Khandar Fort, Mansarovar Lake, Bhoori Pahari Sand Dunes, Soorwal Lake, Chauth Ka Barwara, and Karauli. And don't forget to shop for some fragrant "Khas" products.
25. Hemis National Park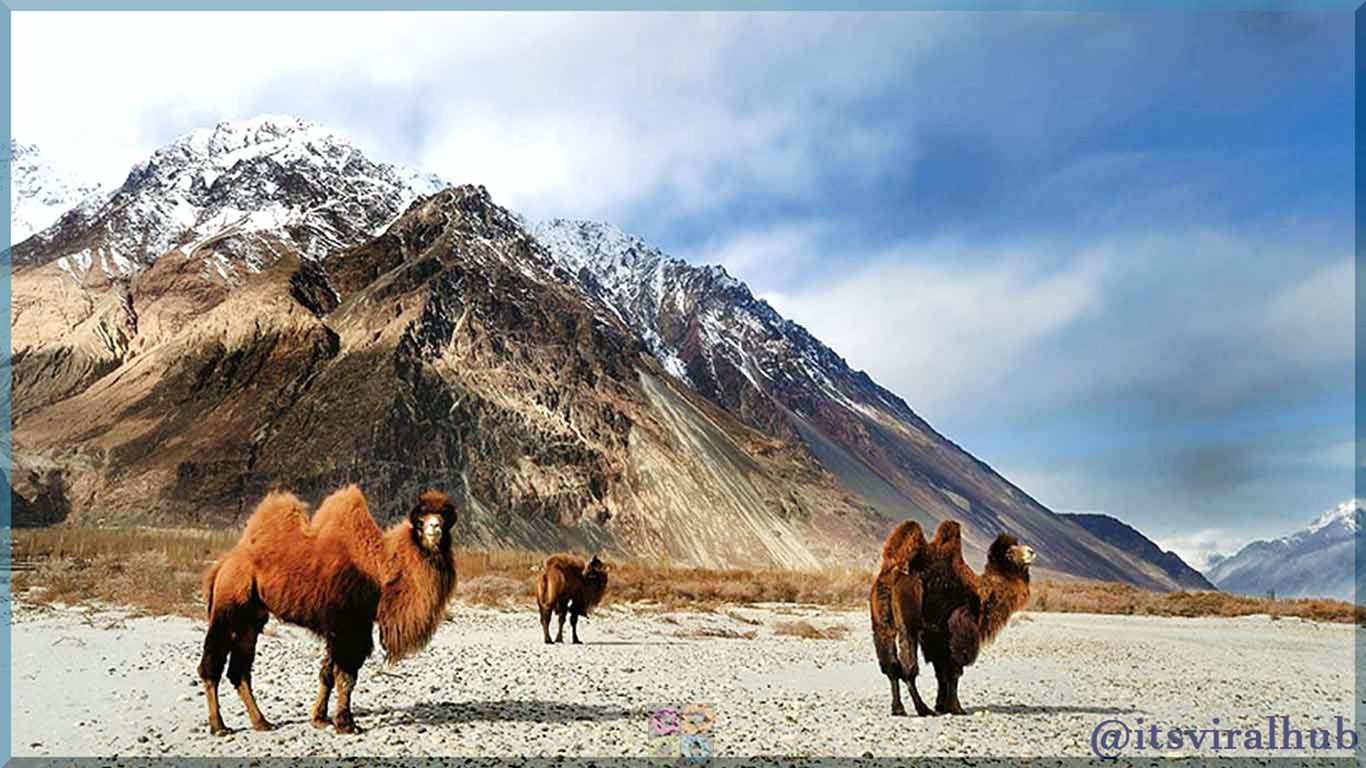 At the point when time thumps your brain to do some insane experience exercises amid the pinnacle of winter season… unexpectedly you see yourself in the snow-loaded wild of Hemis National Park. Situated in the catchments of Markha, Sumdah, Rumbak and parts of the Zanskar Range in the province of Jammu and Kashmir, the Hemis National Park is the biggest national stop in India that extends crosswise over roughly 4,000 square kilometers of land running from a stature of 3,500 meters to 6,000 meters. Amid winter season… the Snow Leopard in the Rumbak catchment range is the significant fascination. In any case, it is a home to a few other imperiled types of creatures and fowls that incorporate the Tibetan Wolf, Eurasian Brown Bear, Red Fox, Golden Eagle, Lammergeier Vulture and Himalayan Griffon Vulture. The high height national stop in India is likewise a home to Argali, Bharal, Shapu and Asiatic Ibex. Access to Hemis National Park amid the winter season turns into somewhat troublesome in light of its elevation and extraordinary icy atmosphere. Subsequently it is prescribed just for voyagers having earlier high height encounters amid the winter.