Nuggets vs Lakers– In Thursday's Game 2 of the Western Conference Finals, the Los Angeles Lakers contained Nikola Jokic commendably. The former back-to-back MVP managed a stat-stuffing performance, putting up 23 points on 11-of-24 shooting, 17 rebounds, 12 assists, and three steals in 42 minutes. While he didn't score 34 points as he did in Game 1, the Lakers can still take consolation.
Nuggets vs Lakers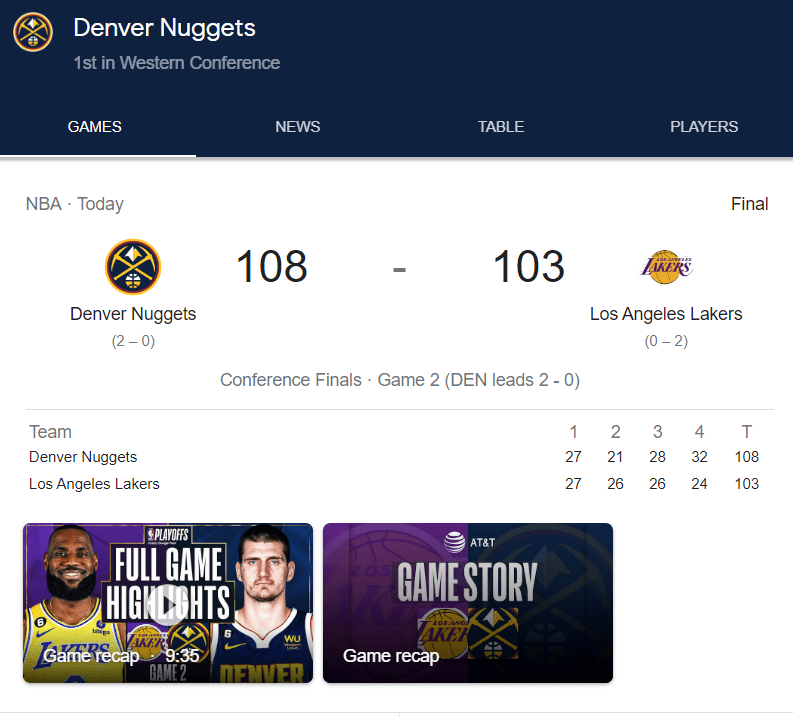 Above all, the Nuggets secured a 108-103 home victory in Game 2, establishing a commanding 2-0 series lead over LeBron James and his team. Following the game, Jokic was prompted to address the Nuggets' lack of respect not just in this series, but throughout the NBA Playoffs. Denver's superstar responded with candid words:
"Making the playoffs is becoming old news for us," shared Jokic, "but honestly, I don't mind it. We're unfazed and simply don't care. It's our norm. Paying attention to all the noise is not my thing."
The Nuggets have learned to thrive under pressure, or its lack thereof, as Jokic pointed out. They proved it in the postseason, and they're at it again in the West Finals against LeBron and the Lakers. Despite facing persistent doubt, they only need two more victories to clinch their first-ever West championship and book their maiden trip to the NBA Finals.
Why Lakers lost the Game 2
The Los Angeles Lakers lost 108-103 to their opponents, the Nuggets. One could attribute the Lakers' defeat to the inability of players such as Davis and James to maintain their form, as the Nuggets unleashed an unstoppable momentum, overwhelming the Lakers. This left the Lakers unable to contain their opponents, resulting in their unfortunate loss.