As per research, around 10 crores of Indians own cryptocurrencies. The number, in all likelihood, may rise in the coming days of 2023. Here we will talk about what is Crypto trading and the 5 best crypto exchanges in India according to the latest reports.
What is trading in cryptocurrencies?
Trading cryptocurrencies involves making predictions about their future price movements using a CFD trading account or an exchange to purchase and sell the underlying coins.
Trading CFDs using cryptocurrencies
Trading CFDs, which are a type of derivative, lets you predict how the price of cryptocurrencies will change without having to buy any of the underlying coins. If you believe a cryptocurrency's value will increase, you can go long (or "buy"), or short (or "sell"), if you believe it will decrease.
Both are leveraged instruments, which means you just need to make a minimum margin deposit to fully access the underlying market. Leverage will make both your profits and your losses bigger because your gain or loss is still based on how much you put in.
---
Buying and selling cryptocurrencies via an exchange
When purchasing cryptocurrencies on an exchange, you're buying the actual coins. To open a position, you'll need to create an account on the exchange, deposit the asset's full value, and store the cryptocurrency tokens in your personal wallet until you're prepared to sell.
Exchanges have a very steep learning curve since you have to master the technology and understand how to interpret the data. There are also limits on how much you can deposit on each exchange, and keeping an account can be very expensive. We will also let you know about the best crypto app in India. You can directly download these apps from the Play Store or App Store.
Best Crypto Exchanges in India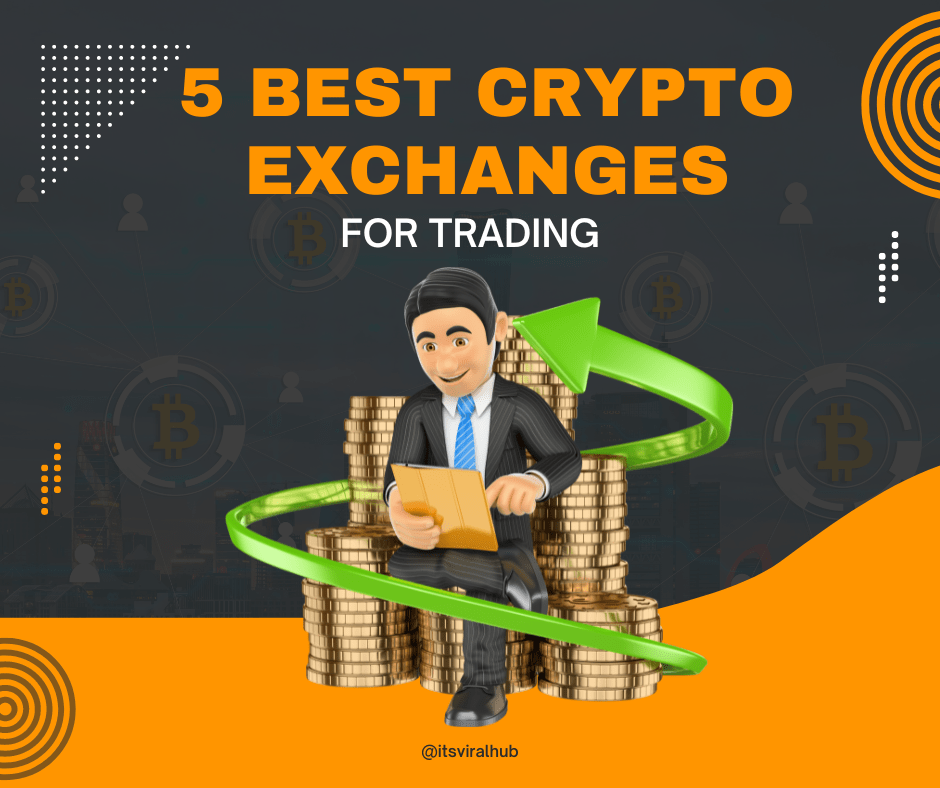 Here are our top Crypto exchanges in India to help you choose a suitable cryptocurrency depending on your financial goals.
1. CoinDCX
It is one of the best crypto exchanges in India. This platform offers a wide range of cryptocurrency-related goods and services, including staking, futures trading, lending options, and margin trading. Both the iOS and Android mobile platforms support the CoinDCX app. Additionally, it provides its members with a vast array of cutting-edge learning resources on cryptocurrency trading techniques via blogs and vlogs. An extensive manual on generating passive income from dormant cryptocurrency is available at CoinDCX. These cryptocurrency staking rewards are determined as follows:
Each user's daily stake equals the daily total stake produced by CoinDCX * the user's token asset holding percentage.
User token holding to total tokens owned on CoinDCX is known as the user token asset holding ratio.
Key characteristics:
Deposits can be made by the user through NEFT, RTGS, and IMPS.
offers facilities for fast purchase and sale along with options for marginal and future trading.
Benefit from up to 10x leverage when trading on margin.
For lending cryptocurrency through automated lending systems, interest rates can reach 16.25% per year.
Available are profit and loss statements.
95% of the funds are kept in cold storage, and two-factor authentication (2FA) ensures excellent security protections.
---
For newbies, CoinSwitch Kuber is the ideal option because it charges no trading fees for any Bitcoin transactions. With as little as INR 100, customers can trade in more than 80 cryptocurrencies. This platform offers a wide range of trading pairs, including INR-to-cryptocurrency exchange, cryptocurrency-to-cryptocurrency trading, and crypto-to-INR trading. As a benchmark index for gauging the performance of the Indian rupee-based cryptocurrency sector, it has also introduced the crypto rupee index. Additionally, it provides a wide range of educational training materials in the form of blogs, videos, and educational materials on cryptocurrencies, non-fungible tokens (NFT), and blockchain.
Features
Supports INR as a fiat currency; hence, INR is the only currency accepted for withdrawals and deposits.
Accepts NEFT, RTGS, IMPS, and P2P as payment options for deposits.
There are no trading fees associated with Bitcoin transactions.
Provides services, like SIP in bitcoin, to increase the returns on cryptocurrency investments.
Robust password security precautions are ensured with 2FA and OTP.
---
With more than 60 lakh registered customers, WazirX is one of the best crypto exchanges in India that is expanding the fastest. At affordable trading fees, this exchange provides a huge selection of coins and tradeable pairs. Additionally well-known for its user-friendly design and sophisticated trading charts, WazirX offers apps for the web, Android, iOS, and Windows. Additionally, it has a referral program that allows customers to receive bonuses of up to 50% commission on each trade.
Features
Enables users to conduct peer-to-peer (P2P) transactions and invest in INR, USD, and Bitcoin.
The WRX, the proprietary digital currency of WazirX, can be bought using INR and exchanged for other cryptocurrencies like Bitcoin, Ethereum, or Dogecoin.
Facilitates smart token fund (STF), which enables new investors to manage their cryptocurrency portfolio and discover experienced traders.
The P2P option on the site, which is available to users for free, can also be used for deposits. P2P enables users to rapidly transfer their fiat money into cryptocurrency.
More than 450 trading coins are available on WazirX.
Full-featured mobile app with quick buy/sell options, live market status, and advanced detailed charts.
Allow customers to use the Lightning Network to make quick payments.
Multi-signature wallet system with superior security features that abide by strict KYC regulations
Various instructional resources are available via WazirX blogs.
---
Why We Selected It
Our choice for the best low-fee exchange is Kraken, whose professional-grade trading platform, Kraken Pro, has some of the lowest costs in the cryptocurrency exchange market. Due to its complex order types, support for leverage trading, and support for futures trading, it is also our top recommendation for seasoned traders.
Kraken offers two platforms: Kraken, which is used for trading, and Kraken Pro, which is used for professionals. The exchange's Pro dashboard offers 13 different order types, fully customizable chart analysis tools, in-depth order book knowledge, and quick execution. Users of Kraken can trade cryptocurrencies on margin and employ derivatives contracts in addition to spot trading.
Kraken Pro charges very little in comparison to its main platform, where instant buy fees can be quite high (up to 1.5%). High-volume traders can reduce trading costs with Kraken Pro's tiered fee structure. Kraken Pro maker fees start at 0.16% and taker fees start at 0.26% for traders with 30-day volumes of less than $50,000. For traders with 30-day rolling volumes over $10 million, maker fees can decrease to 0%, and taker fees can decrease to 0.10%.
Furthermore, Kraken has a limited range of funding options, with wire transfers being the most popular way for users to pay. Transfers via ACH are not accepted.
Pros and Cons
Pros
A large number of supported cryptocurrencies
Low fees on Kraken Pro
Highly liquid exchange
Cons
Not available in all U.S. states
Limited account funding options
---
Investors in cryptocurrencies are familiar with ZebPay since it pays interest on unutilized holdings. For lending crypto, it offers a 4% fixed return that is guaranteed. With approximately 50 lakh registered customers, the exchange currently supports more than 100 crypto coins on its platform. It is particularly ideal for intraday cryptocurrency trading because it enables extremely quick payments with minimal maker fees. The exchange additionally pays rewards on a monthly basis to the top transactions and numerous alluring cashback offers on first trades.
Features
The user can earn a fixed return of up to 4% by lending cryptocurrencies including Bitcoin, Ethereum, Polygon, Binance Coin, and Tether.
ZebPay has robust security procedures in place, and about 98% of its cryptocurrency is stored in cold wallets.
offers trading on five crypto-crypto pairings, including Bitcoin Cash, Ether, Litecoin, Ripple, and six EUR-crypto currencies.
enables clients to pay quickly using the lightning network.
accessible in Singapore, Australia, and India.
offers specialized training in the crypto industry and blogs with news updates.
provides a bug bounty program to help the community find problems that could endanger users.
---
Summary
Selecting the appropriate exchange for your unique needs is crucial if you want to start trading or investing in cryptocurrencies. There is a good option for you whether you want to trade a wide variety of digital assets, pay the least amount of fees, or have the best mobile trading experience.
About other best crypto exchanges in India: We discovered that CoinDCX is the best option for trading on mobile devices, which is becoming more and more popular. BTW, The best-decentralized exchange is provided by Bisq, and the best security is provided by Gemini. Kraken is a good fit for seasoned traders and those seeking inexpensive fees. Cash App has everything Bitcoin-focused traders require, but Bitmart is our recommendation for anyone looking to trade a larger selection of altcoins. Select the exchange that best meets your demands by taking into account your objectives and top priorities.
---
Comparison of Best Crypto Exchanges in India